What is a Drug Rehabilitation Center?
Recovery from the devastating physical and mental effects of drug addiction can be a very difficult and time-consuming process for an addict, so treatment is often rendered in a secure and private institution known as a drug rehabilitation center. A drug rehabilitation center can work on an outpatient basis, but most clients are housed on campus and heavily supervised during their long-term treatment programs. A person who seeks help in a drug rehabilitation center may enter of his or her own free will or be ordered into treatment as a condition of a drug-related criminal conviction. Some centers maintain an open door policy for voluntary patients, while other are much more restrictive.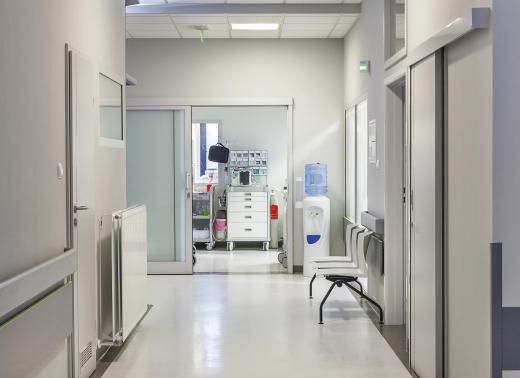 A number of addiction and behavioral specialists work in a drug rehabilitation center, from physicians who monitor a client's physical health to clinical psychiatrists who address the client's emotional and mental issues during recovery. A drug rehabilitation center is often located in a secluded area, far removed from any outsiders who might provide illegal drugs to clients or disrupt their efforts to recover from an addiction. Visitors to a drug rehabilitation center, if permitted, are usually screened for contraband and may have very restricted access to a recovering addict.
The setting of a drug rehabilitation center can vary from institution to institution, but in general the physical grounds and architectural details create a peaceful or reflective atmosphere in order to facilitate a client's recovery. Some centers encourage residents to work on arts and crafts, while others provide alternative treatments such as music, dance or drama therapies. Since many drug addicts have physical as well as emotional issues, they are often encouraged to play sports, tend gardens or take walks around the facility's grounds.
While a drug rehabilitation center does provide a tranquil atmosphere under idyllic settings, it also employs the latest medical and psychological methods available to treat the underlying causes of drug addiction or substance abuse. Many clients suffer painful physical withdrawal symptoms as the drugs leave their systems, while others must face difficult emotional challenges as they recall traumatic events during group and individual therapy sessions. A successful drug rehabilitation center is prepared to handle any medical emergencies which may arise during treatment sessions, including threats of suicide or harm against other patients or staff members.
Treatment in a drug rehabilitation center can be expensive, although many insurance policies do recognize drug rehabilitation as a legitimate medical procedure. Some government agencies also subsidize much of the cost of a drug rehabilitation center visit for indigent addicts or those who have been ordered into a drug treatment program through court order or other involuntary arrangement. Some drug rehabilitation centers are affiliated with local hospitals, while others work independently or are considered non-profit organizations.


By: MSPhotographic

A drug rehabilitation center aims to help those suffering with a drug addiction.

By: malajscy

An inpatient drug rehab center has specialists on call at all hours of the day and night.

By: Monkey Business

People who have a near-fatal drug overdose are admitted to a rehabilitation center to get clean.

By: Monkey Business

A number of addiction and behavioral specialists work in drug rehabilitation centers.