What Is a Distribution Warehouse?
A distribution warehouse is a facility that compiles products for forwarding to wholesalers, retailers, and customers. It can be impractical to ship products directly from vendors to destinations. A distribution warehouse creates a central location to collect products and ship them to the appropriate destination. Such facilities may be run by third party distributors who allow clients to place orders out of a catalog. They can also be run by chains of stores that need centralized facilities for their products, or manufacturers with large product lineups.
This is an important step in the supply chain used to route products to their end destination. Manufacturing facilities make the products, but typically have limited storage space. Shipping directly from a manufacturer to a destination can be highly inefficient and can create supply lags. Instead, companies can move products to a distribution center, which stores them for a limited time before routing them to the next destination.
Order fulfillment centers typically distribute products directly to consumers on behalf of a mail order company. The center can contain a broad mixture of products, adjusted in response to ordering habits, so that it can move quickly to fill an order within a matter of days. Retail distribution warehouses provide shipments to retailers who order from the company or distributor. These facilities are capable of handling larger and bulk orders, like cases of books for bookstores.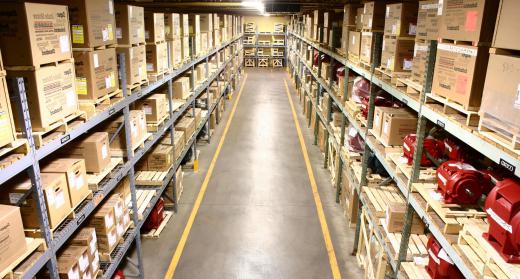 Wholesale distribution warehouses ship products to wholesalers who in turn will distribute them to retailers. These facilities can compile products from numerous smaller vendors to help them expand into a larger market that might not be accessible directly. They may offer other services to vendors, such as marketing in catalogs, to allow them to concentrate on production. A wholesale distribution warehouse can be extremely large to serve a big area and a broad assortment of vendors.
The environment inside a distribution warehouse may be climate controlled to protect the products. Refrigerated areas are available for things like food and medicine, and humidity can be adjusted to limit the risk of damage to products such as books and electronics. This can significantly add to the cost of maintaining the facility, an expense that will be passed on to end consumers in the final sticker price. Such facilities may also include features like automated picking equipment which fills orders with robots and conveyor belts. This is especially common in a large distribution warehouse that would be difficult for employees to navigate on their own.
AS FEATURED ON:
AS FEATURED ON:






By: S.John

An illustration of a supply chain.

By: Ken Pilon

Chain stores or individual companies can operate distribution warehouses to ship products.

By: endostock

A distribution warehouse is a facility that compiles products for forwarding to wholesalers, retailers, and customers.