What is a Diphtheria Immunization?
The diphtheria immunization protects against contracting the bacterial illness diphtheria, which was once a very serious and potentially life-threatening condition in many parts of the world. Development of an inactivated vaccine in the early 20th century was celebrated and has led to widespread use. Now principally confined to areas where the vaccination isn't regularly given, diphtheria still represents a potential threat, and it's recommended by most pediatric and family medical groups that children receive a vaccine and boosters. Diphtheria vaccine isn't given alone, but is often combined with pertussis and/or tetanus. Type of diphtheria immunization may depend on age of persons receiving it and previous vaccination history, in addition to taking account other present disease risks.
There are several kinds of diphtheria vaccinations, which include:

Td—tetanus and diphtheria for anyone older than 7 or anyone who cannot have the pertussis vaccination.
DTaP—diphtheria, tetanus and pertussis, which is most commonly given to infants and young children.
TDaP—similar to DTaP but more appropriate for older children and adults.
While the majority of diphtheria immunization shots are given in early childhood, most kids do get a booster shot when they're around 10 or 11 years of age. Future vaccination may be unnecessary but might occasionally be required with people traveling to areas where the disease is common. Moreover, the combination of diphtheria and pertussis may be used in young to middle-aged adults because of growing prevalence of pertussis infections that have resulted from reduced immunizations for whooping cough. Young and middle-aged adults who are around children might receive recommendation to get a TDaP to avoid spreading the illness, especially to babies. If immunization begins in infancy, a child receives four shots in total to confer protection, which is about 95% total protection against the illness. In adults, the same rate of protection is conferred with three spaced apart shots.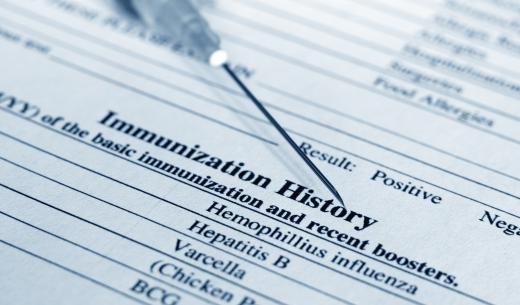 Diphtheria immunization in any form has a relatively low incidence of extremely serious side effects. It can cause high fever of over 105 degrees F (40.56 C), but this rarely occurs and will affect less than 1 in 20,000 people. About three to five people have a milder fever with the shot.
There is also some soreness where the injection occurs, which is most often in the thigh, and sometimes the vaccine upsets the stomach. The side effects of the pertussis vaccination may combine for more noticeable reactions, but most commonly irritation, fever and some soreness go away within a day or two. It should be noted some people should not get pertussis vaccinations with the diphtheria immunization and will need a vaccine preparation without it, which is available in a few forms.
AS FEATURED ON:
AS FEATURED ON:






By: oksun70

The DTaP vaccination protects against diphtheria, tetanus, and pertussis.

By: alexskopje

Previous vaccination history may determine the dose of diphtheria immunization given.

By: Ocskay Bence

A mild fever of short duration is one potential side effect of a diphtheria vaccination.

By: Photographee.eu

Diptheria immunization has a low incidence of serious side effects.

By: Filip Ristevski

Most medical doctors believe that the benefits of vaccines, including the diphtheria vaccine, outweigh potential risks.