What is a Chiropractic Office?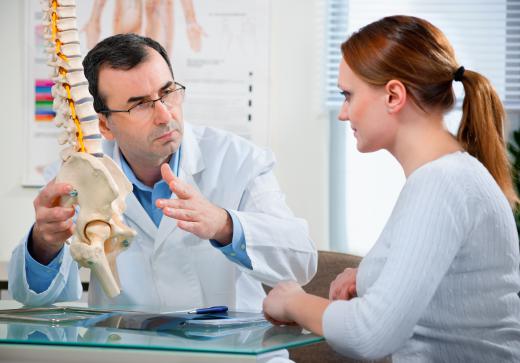 A chiropractic office is an medical facility offering treatments intended to improve health problems that affect the muscles and bones of the body. In addition to chiropractic services, other forms of treatment may be available at a chiropractic office, including therapeutic massage and physical therapy. There is some debate between experts as to whether chiropractic treatment is an alternative therapy or a mainstream medical treatment.
Visits to a chiropractic office may be recommended by a primary care physician or self-prescribed by a patient. It is not uncommon for a doctor or physical therapist to suggest that a patient see a chiropractor after an accident or injury that has affected the spine or other skeletal elements. As chiropractic treatment is often regarded as an alternative treatment, it may not be covered by many insurance programs. Check carefully to see under what provisions care may be covered by health insurance; some provider's may offer coverage if visits to a chiropractic office are specifically recommended by a primary care doctor.
A chiropractic office will usually resemble a regular medical office in form and function. Patients usually sign in with a receptionist for an appointment, and may need to fill out paperwork regarding the nature of their visit. Before seeing the chiropractor, basic measurements of height and weight may be taken and recorded. Patients in ongoing treatment may be asked to perform stretches or basic exercises in a private room before seeing the chiropractor.
During the initial appointment, the chiropractor will ask questions about pain or injuries and may request X-rays in order to get a clear picture of the affected area. They may perform spinal adjustments on a patient by gently tugging and pulling on the body to align spinal and body position correctly. Be prepared for loud cracking or popping sounds during adjustments, but rest assured that these are normal. One of the major jobs of a chiropractor is to ensure that all adjustment techniques are performed safely and carefully, with little or no pain to the patient.
Chiropractors are not usually medical doctors, though most have gone through extensive training in their field. The typical background of a chiropractor includes undergraduate work followed by two or four year professional training. They are generally not permitted to prescribe medication, though some may recommend vitamin, nutritional, or herbal supplements to patients. By the time a chiropractor is legally certified to practice, most will have had hundreds, if not thousands of training hours, much like a dentist.
Historically, the practice of chiropractors has been condemned as useless at best and deceptive at worst. Yet many clinical studies show that chiropractic medicine can benefit posture, ease chronic pain or healing from injury, and may even improve general health. While controversy continues to rage over whether the work of a chiropractic office is helpful or not, it remains an extremely popular form of alternative medicine.


By: Alexander Raths

Chiropractors specialize in spinal adjustments.

By: apops

Some chiropractors offer massage therapy.

By: WavebreakMediaMicro

A chiropractic office typically resembles a regular medical office.