What is a Certified Registered Nurse Anesthetist?
A certified registered nurse anesthetist (CRNA) is a registered nurse who receives additional training to administer anesthesia during surgeries or other medical procedures. This is one of the first nursing specialties, beginning in the mid-19th century. Today, rigid training requirements exist which truly train these medical professionals for their work.
Almost any medical situation that requires the administration of anesthesia can involve the work of a certified registered nurse anesthetist. Different state rules may be in place about whether the nurse may work alone or needs to have his/her work overseen by a supervisor. In many states, these nurses may work unsupervised, and they could be hired in a number of locations: hospitals, dental or podiatry offices, or birthing centers. This doesn't mean that these nurses always work alone, and sometimes they are part of anesthesiology team that includes an anesthesiologist. However in most cases, these nurses are able to perform any kind of anesthesia, from a simple local administration to general anesthesia.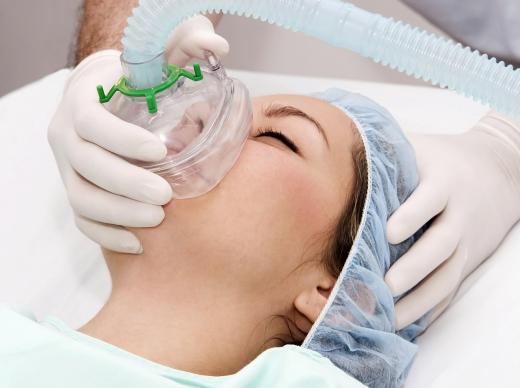 Though administering anesthesia is obviously a main part of the work of a certified registered nurse anesthetist, it is not the only aspect of the job. During all times when a patient is on anesthesia up until the point where they recover from it, these nurses must watch the patient to be certain they have no complications. Thus they are also expert in patient care and observation, and in treating patients who react poorly to an anesthesia drug.
One place where CRNAs are exceptionally important is in the US and French military forces. Generally anesthesia used in settings outside of the US by the US military is administered by a CRNA. This extends the long-held tradition of using nurses as anesthetists, though training for the position is now quite rigorous. CRNAs may also staff medical clinics in developing countries, since it is hard to attract anesthesiologists to serve in these locations, and a CRNA is quite qualified to serve instead.
It used to be the case that a certified registered nurse anesthetist required only bachelor's degree training, but this has changed since the early 1990s, and now all nurses seeking this specialty must spend two to three years after getting a bachelor's degree and have experience as a registered nurse, before entering a master's program to train. Completion of these requirements doesn't lead to certification until the nurse can pass a national exam.
There are a number of these programs offered around the world, but competition is extremely stiff. In the US, the Council on Accreditation of Nurse Anesthesia Educational Programs should approve any studies offered, since licensing may be impossible to obtain otherwise.
It should be noted that there is a goal to change this master's degree to a doctorate degree in the next few decades. The change might require that some CRNAs go back to school for more studies. Some already do, and there are some doctorate programs presently in existence. A certified registered nurse anesthetist with a doctorate may have some career advantages and could pursue work outside of patient care.
One of the reasons people find the CNRA field attractive is because of compensation. Nurse anesthetists are the best compensated specialist nurses, making a median salary in the mid $100,000 US Dollars (USD) in the US. This is still by far less expensive than paying an anesthesiologist, where median salary may be over twice the salary of a certified registered nurse anesthetist. However, it should be observed that many CRNAs find salary a secondary consideration, and choose this field because they love what they do.
AS FEATURED ON:
AS FEATURED ON:






By: reflektastudios

A nurse anesthetist administering anesthesia before surgery.

By: Monika Wisniewska

A certified registered nurse anesthetist (CRNA) may work with podiatrists or orthopedists.