What Is a Bereavement Counselor?
A bereavement counselor is someone who provides counseling and support to individuals who are grieving the death of a a person or pet. In some cases, this person is a mental health professional such as a psychologist or clinical social worker, though some grief counselors are members of the clergy. While some people seek bereavement counseling soon after they experience a loss, others may seek help in the later stages of grief. An individual may also enter grief counseling when someone he or she knows is close to death.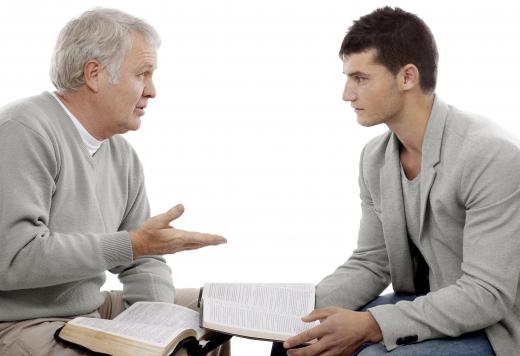 Many mental health practitioners choose to focus their professional practice in one or a few areas. Some psychologists and therapists, for example, choose to assist those who are having difficulty with processing the loss of another person through death. By working as a bereavement counselor, the counselor assists clients in managing grief and loss and in developing coping skills while adjusting to the changes that death brings to the lives of survivors.
Someone who works as a bereavement counselor may be credentialed in one of a variety of ways. Typically, he will be licensed to offer counseling or psychotherapy in the jurisdiction in which he works. Professional credentialing for mental health professionals varies by jurisdiction, but the bereavement counselor may hold a master's degree, PhD, or postgraduate certificate in counseling or psychology. Religious leaders may also provide grief counseling, though this may take place as an informal arrangement between the clergyperson and a member of the religious organization that she serves. Some religious leaders do pursue additional, advanced training in counseling and may specialize in working with people who are living with grief. Occasionally, a bereavement counselor may be a layperson who offers peer counseling through a grief support group or under the supervision of licensed professionals.
During his work with a client, a bereavement counselor will typically assess the client's state of mind and ability to function. Ideally, she will provide her clients with a supportive environment in which they can express their feelings of grief, anger, and loss. As the client processes the reality of the death as well as his own responses to it, the counselor can work with him to find healthy ways to mourn while also maintaining close relationships with other people and fulfilling life responsibilities. In situations where an individual seeks grief counseling long after experiencing a loss, the therapist can assist his client in processing the ways in which the loss has affected the client's life. In both cases, grief therapy can provide relief for a client who needs assistance in coping with the pain of a significant loss.


By: WavebreakMediaMicro

Bereavement counselors often are psychologists or social workers.

By: georgemuresan

Religious leaders may provide grief counseling.

By: Lisa F. Young

A bereavement counselor may provide counseling for the loved ones of a deceased individual.

By: WavebreakmediaMicro

In some cases, bereavement and grief therapy is part of a broader treatment plan.

By: michaeljung

Bereavement after the death of a loved one can take a significant time to process.

By: auremar

There are many signs which indicate that a person is in need of a bereavement counselor.

By: giideon

Bereavement counselors may work with couples instead of individuals dealing with grief.