What Factors Affect Diphenhydramine Dosage?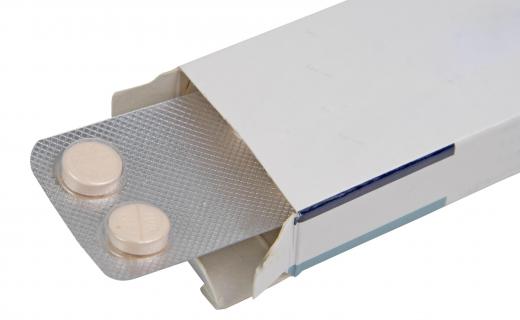 Diphenhydramine dosage is affected by the patient's age and response, the condition being treated, and the use of certain other medications. The recommended amount may also be partly dependent on how the drug is delivered. Over-the-counter pills and elixirs are usually given in much smaller amounts than intramuscular or intravenous injections.
Children tend to have much lower diphenhydramine dosage recommendations than adults. For kids between the ages of two and six, doses typically don't exceed 6.25 milligrams (mg) every four to six hours. Patients older than six but under 12 years old generally take no more than 25 mg every four to six hours. A lower amount is appropriate if it is effective.
Patients over the age of 12 may be prescribed different diphenhydramine dosage amounts. It is safe, in most cases, for this age group to have up to 50 mg of diphenhydramine every four to six hours. The maximum amount recommended in a 24-hour period is 300 mg. Again, some people will derive benefit from smaller doses, and there is no point in taking more medication than is necessary. The side effects of diphenhydramine, like drowsiness, tend to increase when people take larger amounts of the drug.
Most conditions the drug treats such as allergies, insomnia, hives and motion sickness, abide by the stated recommendations. There are some medical problems warranting a higher dose. In these cases, the medication is ordinarily injected into the muscle or given via an intravenous drip.
For example, people suffering from extrapyramidal syndrome might require as much as 100 mg of this medication in a single injection, which can be repeated four times a day. That's 100 mg more than the maximum dose for treating things like allergies. Children up to age 12 may have much more of the medication than usual if they are being treated for an extreme allergic reaction.
An exact diphenhydramine dosage for pediatric patients with a severe allergic response is assessed as 5 milligrams of medication per one kilogram of weight. Therefore, a two-year-old weighing 30 pounds (13.61 kg) might have a 68 mg dose. The urgent nature of this treatment justifies using more, but in most cases, people taking this medication should never exceed the standard, recommended amounts without a physician's guidance.
Occasionally, other medications necessitate lowering the diphenhydramine dosage. Drugs that have sedating qualities like benzodiazepines, opioids, other sleep medicines, and a few herbal drugs or alcohol can cause negative interactions. They may especially result in significantly increased sedation. People should get medical advice before using these substances with diphenhydramine.


By: Radu Razvan

Diphenhydramine tablets.

By: tatyana

Children require lower doses of diphenhydramine than adults.