What Does an Office Specialist Do?
An office specialist is a fairly broad job description, and is one that is not frequently used; administrative assistant is a more common descriptor, though the two jobs may differ depending on the type of office in which the individual is working. In most cases, an office specialist is someone with a great deal of knowledge regarding the operations of an office, and will generally be a fairly upper-level person in any office environment, such as an office manager. Tasks might include greeting clients as they enter the office, answering phones and receiving mail, and scheduling meetings, among other common administrative functions.
It is necessary for anyone who wants to become an office specialist to have certain skills. Computer skills, and the ability to use various types of office software, are generally required, as well as the ability to type a certain number of words per minute. A solid understanding of what it takes to maintain an office, such as understanding how filing systems work and performing other similar tasks, such as operating machinery such as a scanner, copier, and fax machine, is also important. It is also necessary for an individual in this position to be a good people person, and to know how to interact professionally with people on the phone and in person.
In many cases, an office specialist will also provide personal assistance to upper level executives in the company. This may include scheduling meetings, assisting in planning or scheduling trips, or otherwise assisting in managing the executive's time efficiently every day. The office specialist may also be responsible for preparing reports, writing up meeting minutes, and assisting in drafting letters or presentations. The specific tasks performed by an individual in this position will also vary based on his or her years of experience and the size and type of the office, whether it is a corporate office or a more specialized area of work such as a medical or legal office.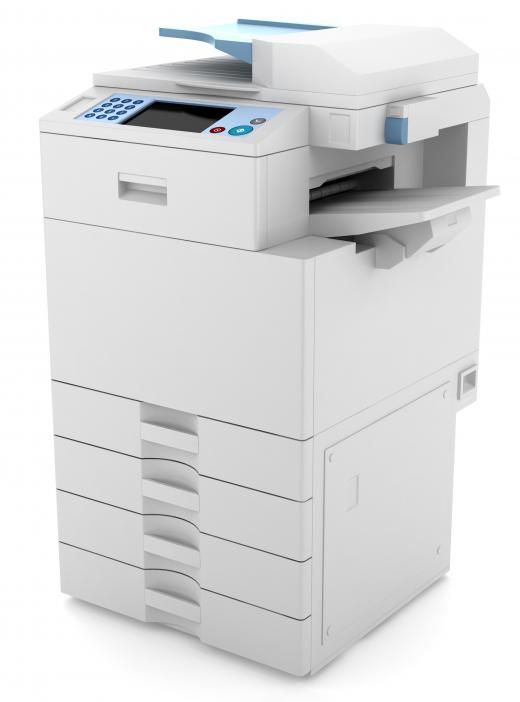 There are specific training programs for people who want to become office specialists but may not have any experience. These are typically certificate programs that can be completed in six months to one year, or associate's degrees that may take up to two years to complete. Though they are not always required, they often make people much more marketable, especially those without a great deal of work experience or those who have just finished high school.
AS FEATURED ON:
AS FEATURED ON:






By: beeboys

Office specialists might need to record minutes or take dictation.

By: Tiler84

An office specialist may need to operate machinery, such as fax machines and copiers.

By: sepy

Office specialists often are skilled in word processing and other computer software.