What Does an Instrument Technician Do?
An instrument technician plays an important role in repairing and maintaining a variety of equipment. In most cases, these individuals work on items from the medical field and mechanical equipment, but can work in other areas as well. Typically, a minimum of an associate's degree in equipment technology or a related field is required to obtain a position. For some employers, it also requires a certificate in a specific area. Some primary responsibilities of an instrument technician include communicating with customers, inspecting damaged equipment, repairing equipment, monitoring inventory and staying abreast of changes in technology.
Communicating with customers is often the first thing an instrument technician will do before he begins working on equipment. Basically, he must determine the specific malfunctions of equipment and any other details. For example, if he works on medical equipment, a customer might bring him a damaged electrocardiograph and explain which parts need repair. This aspect of the job requires a person with effective communication and listening skills.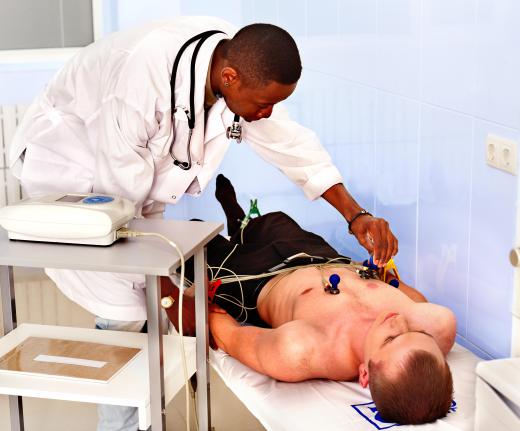 Along with this, an individual will need to inspect each piece of damaged equipment. Doing so is intended to verify what a customer states and gives an instrument technician a clear idea of the problem. In addition, this helps him come up with a cost estimate to give to a customer. After performing an inspection, he will obtain the specific tools needed to fix the equipment.
Efficiently repairing equipment is perhaps the most integral part of this job. Essentially, it's the job of an instrument technician to effectively repair each piece of equipment in a timely manner and restore it to working order. In some cases, this may involve a simple adjustment that is quick and inexpensive; in other cases, he may need to replace multiple parts, which can be time consuming and costly. Due to the wide variety of equipment he may come across, it's important for an instrument technician to be knowledgeable and skilled at fixing numerous items.
An individual in this position must monitor inventory such as tools and other supplies. This can involve routinely cleaning tools and keeping track of parts needed for making repairs. In many cases, an instrument technician will also be in charge of maintaining a storage area and ordering new parts when they run out. Consequently, it's helpful for a person to be considerably organized.
Additionally, an instrument technician may be required to stay abreast of changes in technology. Since advances in technology sometimes affect the functionality of equipment, an individual needs to be aware of changes. As a result, he might read related industry magazines or attend periodic workshops.
AS FEATURED ON:
AS FEATURED ON:






By: Gennadiy Poznyakov

Instrument technicians play a vital role in maintaining and repairing medical equipment.