What Does a Reflexology Therapist Do?
Reflexology therapists stimulate pressure points on the feet that correspond to specific areas of the body to release energy and promote well-being. They use a holistic approach to return the body to its natural state and intended functioning. A reflexology therapist typically does not claim to cure or prevent disease, but aims to reduce stress and promote relaxation.
He or she practices under the theory that zones in the body are linked to zones on the feet, and generally uses colored-coded charts that define these areas on the feet and corresponding organs in the body. Typically, an area of the foot that is tender will signal a body part not functioning properly. Sometimes a reflexology therapist finds a tender area of the foot that feels like grains of sand are beneath the skin, which can be resolved through massage and pressure.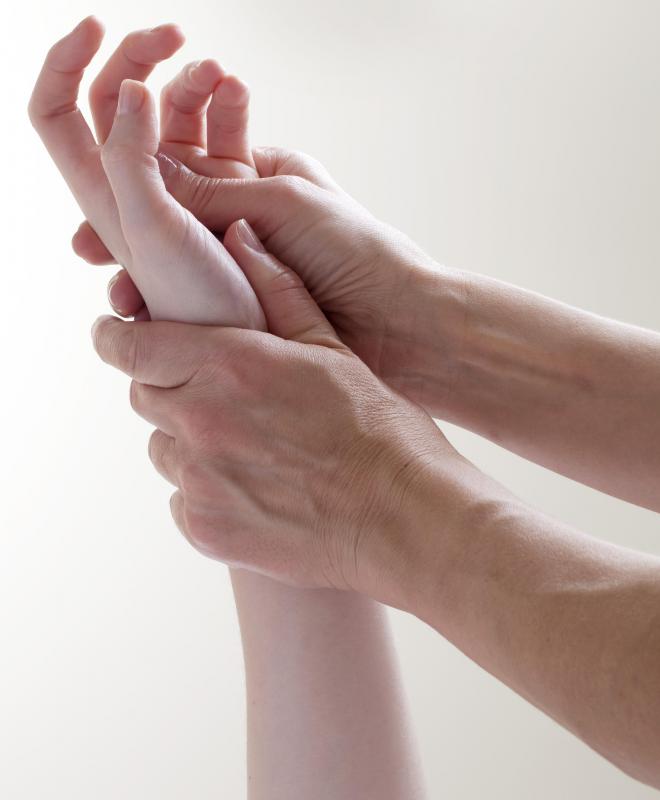 Reflexology is based on an ancient practice in China, Egypt, and India. It stems from the belief that stimulating pressure points on the foot sends chemical signals to the body's central nervous system. The brain receives these messages and releases more oxygen to that area of the body, causing relaxation and stress reduction. Medical research shows that stress contributes to disease, meaning reflexology might indirectly improve health.
The reflexology therapist might apply pressure to the tips of the toes of someone who experiences frequent headaches. Different areas of the foot might respond to the spinal column, vertebrae, or other bodily parts that could cause back pain. Still other regions might become the focus for someone having hormonal problems, such as nausea in pregnancy.
A reflexology therapist commonly first talks with a client to discuss any present or past health problems. The feet are typically soaked in warm water and dried before the reflexology session begins. The therapist might use oil or lotion to massage the feet before applying pressure to certain zones. He or she might recommend additional therapy sessions, which usually last about 30 minutes several times a week.
Training courses in reflexology generally require short-term study to learn the technique. Some classes issue certificates upon completion. In most areas, a reflexology therapist does not need a license to practice because he or she is not practicing medicine, and the therapy does not fall under health codes for massage therapy.