What Does a Mobile Hairdresser Do?
A mobile hairdresser is a person who provides salon services such as haircuts, color, and styling outside of a salon setting. The person may be a licensed beautician or simply work by experience, depending on the types of services offered and their location. He or she may provide hair services in a client's home, at events such as weddings, or work in the entertainment industry.
Some hairdressers choose to work on a freelance basis rather than working at an established salon or starting up their own. Just like the majority of stylists who work in these types of establishments, many mobile hairdressers provide services such as all-over color, highlighting and lowlighting, and trims and haircuts. He or she also often provides styling services like blowouts and straightening, curling or up-dos for women, or product styling for men. Due to a lack of mobile equipment, many hairdressers that work on their own in this manner are not able to provide more complex services, such as straightening treatments, perms, or extensions, although this varies by person.
In most countries, a mobile hairdresser who provides cuts or chemical treatments, such as color, require a license. Some, however, may attempt to provide these services without one. In most cases, a mobile hairdresser that only provides hair styling services can often work without a license.
Many mobile hairdressers provide services to regular customers in the client's home, and typically brings all necessary supplies for the service to the client's house on an appointment-only basis. This can work well for working parents or busy business people. Many freelance stylists will also provide services in tourist areas, coming to a client's hotel room to perform cuts, color, or styling. In some cases, a mobile hairdresser provides emergency hair care services on an on-call basis, correcting botched color jobs done at home or in the salon and fixing bad haircuts.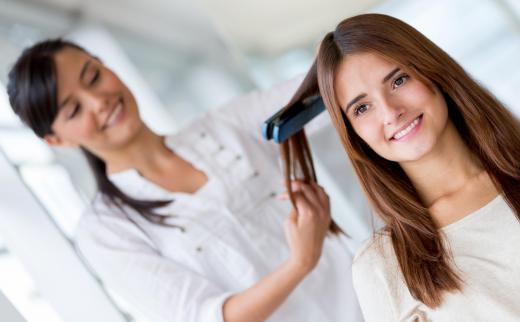 One of the primary parts of a mobile hairdresser's job is to provide styling for formal events. This most often occurs at weddings, where the stylist may provide services to the bride or the entire wedding party. A mobile hairdresser may also perform services for public figures before they attend an event or speaking engagement.
While the majority of mobile hairdressers perform services on individual clients, studios or companies hire some for work in the entertainment business. These stylists may do the hair for television personalities or on set for movies. They may also travel with entertainment artists and style the client's hair before events or concerts. In some cases, a mobile hairdresser may work for one individual person, providing on-call haircuts, color, and styling whenever necessary.
AS FEATURED ON:
AS FEATURED ON:






By: Africa Studio

Mobile hairdresser may provide professional hair coloring in the comfort of one's home.

By: Andres Rodriguez

Mobile hairdressers provide their services in a client's home.