What does a Hedge Fund Manager do?
A hedge fund employs aggressive strategies such as short selling and leverage that might not be legally permitted in a standard mutual fund. It is supposed to be a way to "hedge" one's bets by ensuring a more constant than usual return on investment. This is not always the case in practice, but hedge funds remain a popular type of investment fund for wealthy institutions and individuals. A hedge fund manager consults with other financial professionals, such as market analysts and risk managers, and applies strategic trading techniques aimed at increasing a hedge fund's value.
Hedge funds are generally smaller than other investment funds in the sense that very few investors are involved. In most jurisdictions, laws strictly dictate how many investors can contribute to a hedge fund. Hedge fund managers thus tend to develop close working relationships with their clients.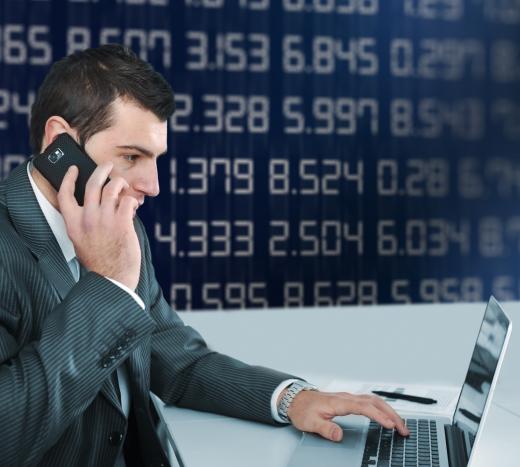 A good hedge fund manager possesses a varied skill set. They must be computer savvy, able to work with risk-analysis and other statistical software to generate spreadsheets. This position also requires an advanced knowledge of investment strategies and financial analysis; many people working as hedge fund managers also are critical thinkers able to choose when and how to trade in order to correct or reduce risks in their clients' portfolios.
It also is vital that a hedge fund manager possess the people skills necessary to effectively communicate financial concerns and advice to clients who may or may not be well-versed in the language of economics and investment. A successful hedge fund manager must be able to breakdown complex strategies and financial information to make it understandable for investors. Maintaining constant communication and being accessible to investors when they have questions is an important part of developing a favorable reputation as a hedge fund manager.
A hedge fund manager provides consultancy to his clients and tends to specialize in a particular area. These professionals sometimes work as contracted consultants for individuals and companies in addition to managing particular hedge funds. Certain hedge funds also may focus on particular industries, depending on the areas with which the hedge fund manager is most familiar.
If a person can inspire the confidence of accredited investors and put together an investment strategy, then he or she may be suited to successfully manage a hedge fund. While no particular qualification is obligatory to work as a hedge fund manager, related professional qualifications, membership in associations and a background in investment banking or financial analysis can all be advantageous in securing suitable investors. Hedge fund managers work in a highly competitive environment and usually accumulate years of work experience before managing hedge funds.
AS FEATURED ON:
AS FEATURED ON:






By: Jasmin Merdan

Investors not only place money with a hedge fund firm or strategy, but they direct capital to a fund because of the investment talent that is running that portfolio.