What Does a Clinician-Scientist Do?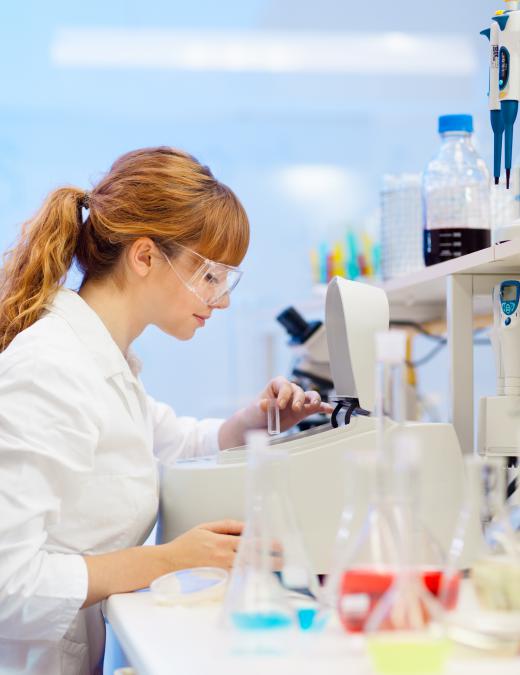 A clinician-scientist spends the majority of his or her time conducting biomedical research. This position is generally employed by public health agencies, research or pharmaceutical companies, hospitals, and laboratories. The duties of a clinician-scientist may vary depending on the company that he or she works for and there are many may require clinician-patient interaction. He or she may need to perform tests on patients and analyze the resulting data to find suitable treatment. Aside from running tests on patients, a clinician-scientist generally has a variety of tasks to perform in a laboratory.
Some laboratory duties may include using DNA techniques to detect diseases, analyze bacteria and viruses, and identify toxic substances. These tasks may be performed for research purposes to create new types of medicine, or to record the effects that various substances have on organic material. In addition to research work, a clinician-scientist may oversee laboratory operations and supervise other lab employees. This may involve testing, maintaining, or ordering new equipment and supervising testing procedures to ensure the safety of products. Most employees in this profession are required to at least have a bachelor's degree in clinical laboratory science but many have a master's or medical degree.
The area of study that a clinician-scientist generally focuses on includes hematology, microbiology, immunology, and clinical chemistry. Although a bachelor's degree in this field usually takes at least four years to complete, a medical degree in a clinical science discipline may take up to eight years to obtain. A lengthy internship may also be required due to the highly technical nature of diagnostic testing. Years of devotion and patience are typically required to enter this profession and it can be a highly competitive field. Starting salaries are generally high due to the amount of experience and education required and there are numerous career advancements in this field.
Due to the number of different subcategories in this field, a clinician-scientist may have a specific area of expertise. Some of the sub-fields include urinalysis, toxicology, microbiology, and immunohematology. In addition to a lengthy education and years of experience, some jurisdictions may require that he or she holds a certification or license. The certification process generally requires that the candidate complete a series of exams and meet other requirements set in his or her location. Aside from medical facilities and research companies, there are government agencies that offer this position.


By: kasto

A clinician-scientist conducts biomedical research.

By: Darren Baker

Urinalysis is a sub-field of biomedical research.

By: perfectmatch

A clinician-scientist may have a specific area of expertise, such as toxicology or microbiology.