What Does a Chef Trainee Do?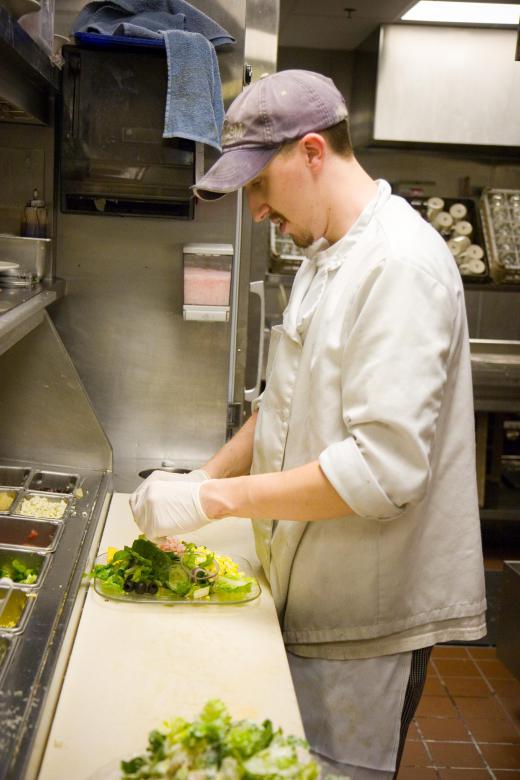 A chef trainee is someone who is learning culinary arts by working in a professional kitchen. In many cases, the chef trainee will be expected to perform a wide variety of kitchen tasks, which may include cleaning and maintenance while also assisting established line cooks and chefs by preparing ingredients prior to dinner service. As the chef trainee gains more experience in the kitchen, he or she may be given more responsibility for preparing menu items and eventually may be encouraged to develop his or her own recipes. Eventually, he or she may be ready to assume a chef role in the kitchen where he or she currently works or may be able to find a more advanced position in another establishment.
While there are numerous culinary arts schools that teach the foundations of good cooking, being a good professional chef requires a significant amount of real-world experience. Many culinary schools encourage students to pursue chef trainee internships while in school so they can get the experience they need to get a job after graduation. The military also offers vocational training to soldiers while they are in the service, allowing them to work as cooks and in food service during their enlistment. Internship or military programs may provide aspiring chefs with a structured program where they can begin learning basic kitchen skills and management while eventually learning more advanced techniques. In some cases, individual restaurants will participate in formal apprenticeship programs. These programs may allow a chef trainee to earn money while working in a professional kitchen and participating in part-time classroom training.
In many cases, a chef trainee may start at the bottom of the culinary ladder, not even being allowed to work with food for his or her first few weeks in the kitchen. Instead, he or she may be expected to wash dishes and clean while also learning how to work effectively and safely in a busy commercial kitchen. If the upper-level chefs and line cooks find that a newcomer has the ability to withstand the working conditions, he or she may be moved to different stations within the kitchen so as to learn to prepare various types of menu items. In many cases, this process of learning culinary arts is an important step in career advancement, as significant work experience may be required to achieve a position with more responsibility and better compensation in other food service establishments.


By: Mat Hayward

A chef trainee may be tasked with preparing side dishes.

By: CandyBox Images

Chefs and chef trainees work together in a restaurant's kitchen.

By: Artanika

A chef trainee may be expected to wash dishes.

By: Silvano Rebai

A chef trainee may help keep cooking utensils clean.