What Causes a Stiff Neck and Back?
A stiff neck and back can be caused by a variety of conditions, some quite serious and others temporary and mild. The stiffness can trigger other reactions as well, and sufferers of a stiff neck and back may experience headaches, a loss or reduction of mobility, and even shoulder or arm pain. Some of the causes of such stiffness may include overuse or improper use of the muscles, sprains and strains of soft tissue, spinal compression, meningitis, and even fractures from direct impacts or other trauma.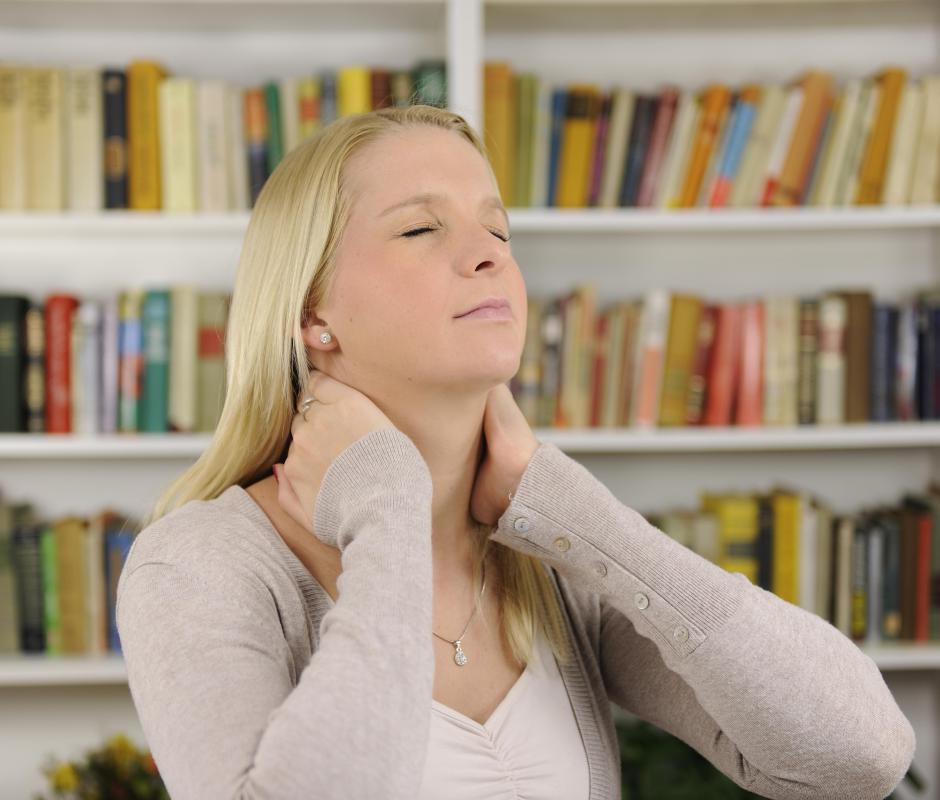 Meningitis is one of the more serious causes of a stiff neck and back, and it should be treated immediately by a doctor because the condition is potentially life-threatening. It occurs when the protective layer around the brain and spinal cord becomes inflamed, causing pain in various parts of the head, neck, shoulders, and back. A headache will usually accompany the stiff neck and back, and a rash may break out in other cases. Diagnosis must be performed by a doctor and it must be done swiftly to avoid complications that can lead to pain and possibly even death.
Other causes of a stiff neck and back that can still potentially be dangerous or even life threatening include bone fractures in the neck and spine. A fracture occurs when a crack develops in a bone; the severity of this crack will often determine how much pain is felt and how much damage can be done to the neck and spine. A minor fracture can often heal on its own, but a more severe fracture may cause damage to the spinal cord or nerves that surround the spine. This can be extremely dangerous or even life-threatening; fractures often occur after impacts are incurred by the spine.
Muscle strains can lead to a stiff neck and back as well. A strain occurs when the tiny fibers that make up the muscle begin to tear due to overuse, improper use, or an undue strain being placed upon the muscle. Minor strains can heal on their own given enough rest and proper care, but more severe strains, known as ruptures, may require surgery. A rupture occurs when a muscle separates entirely from itself or the tendons holding it to bone, and this can be a very painful condition. The muscle will need to be repaired surgically in some cases, meaning a prolonged recovery period may be in order.