What Can I Do with a Pharmacist Degree?
A pharmacist "fills" medication prescriptions prescribed by doctors by collecting and distributing medications and providing administration instructions to patients. They are significantly more than white-coated pill counters. Rather, a pharmacist has completed a doctor of pharmacist degree — or PharmD — which requires work well beyond a regular four-year bachelor's degree and are specialists in the chemistry and pharmacology of medicines. A career as a pharmacist will afford you a higher-than-average salary and job opportunities are expected to grow at a much greater rate than average over the next 10 to 15 years. With a pharmacist degree in hand, you can work in a number of jobs at a variety of situations, ranging from a retail pharmacy to a pharmaceutical sales consultant.
The vast majority of those with a pharmacist degree are employed in retail community pharmacies, whether privately owned or part of a regional or national chain. Depending upon the size and organization of the business, retail pharmacists usually have greater patient contact and more responsibility for patient education, monitoring for side effects, and keeping alert for possible drug interactions. Pharmacists also supervise pharmacy technicians who count and double-check the dosage and amount of medication dispensed for each prescription. Inventory management, ordering new stock, pricing medications and dealing with different insurance reimbursement requirements may also be an aspect of a retail pharmacist's job description. Retail pharmacists often work evenings and weekends in addition to a Monday-through-Friday workweek.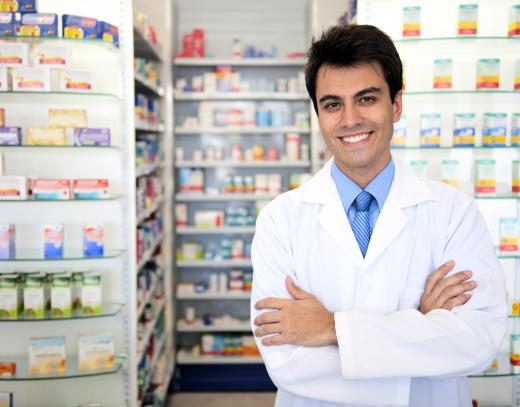 The second largest employer of individuals holding a pharmacist degree includes hospitals, medical centers and some nursing homes. Clinical pharmacists are responsible for ensuring that the medications of each and every hospitalized patient are provided as soon as possible. Depending upon the size of the facility, this may mean personal delivery to a unit's medication cart, restocking a unit's pharmacy "closet," or restocking a unit's computerized patient medication dispensing device. Consultation with physicians to determine the best medication for treatment and education for nurses as to how to administer the drug are also frequently parts of a clinical pharmacist's job description. These pharmacists are moreover the most likely to specialize in different areas of medications such as intravenous (IV) fluid preparations, total parenteral nutrition (TPN) preparation, and chemotherapy.
Other potential areas of employment for those holding a pharmacist degree include academia, sales, managed care and research. Some pharmacists return to school for doctorates in related fields and teach at pharmacy colleges. Others work for drug companies and use their expertise to either sell new medications to physicians or to conduct research on medications still under trial. Finally, insurance companies have begun to offer pharmacist degree graduates positions in determining what drugs will be covered under specific policies and under what conditions.
AS FEATURED ON:
AS FEATURED ON:






By: mangostock

A pharmacist.

By: ACphoto

When a doctor prescribes medication, a pharmacist fills the order.