Trails are marked out or worn paths that traverse wilderness areas or woods. They are distinguished from sidewalks, walkways, and roads, all of which suggest more traffic and a paved surface, which trails may or may not have. Walking trails are trails through natural areas especially designed for moving at a walking pace.
Walking trails have a variety of uses. They can simply be paths protected from bicycle, motor vehicle traffic and designed for sightseeing in a place of natural beauty or as a route from one location to another. On the other hand, they may be designed specifically to be used for fitness and exercise, in which case they may be mainly used by walkers or shared with runners and others who are exercising.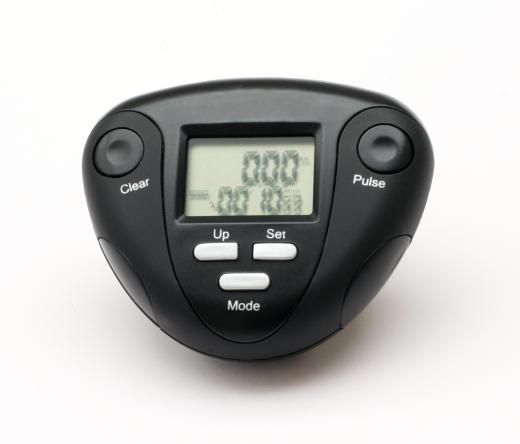 Some walking trails are designed as loops. This allows the walker to leave a car or bike in one spot, and complete the walk while returning to the vehicle. Out-and-back trails provide the same convenience, but less change of scenery. Water and restrooms can also be desirable walking trail features. When hoping to take a dog along on a walking trail, it is advisable to check first to make sure that they are permitted.
Isolated walking trails can be inviting for the solitude, but they can also present some dangers. Walking can be made safer by going with a buddy or a dog if permitted, carrying a cell phone, and carrying a walking stick and a whistle. When setting out on a walk of more than an hour's duration, it can be a good idea to let someone know where one intends to go. And if traveling an unknown route, taking a compass or GPS, as well as a map or a smart phone with mapping capability can be a good safety precaution.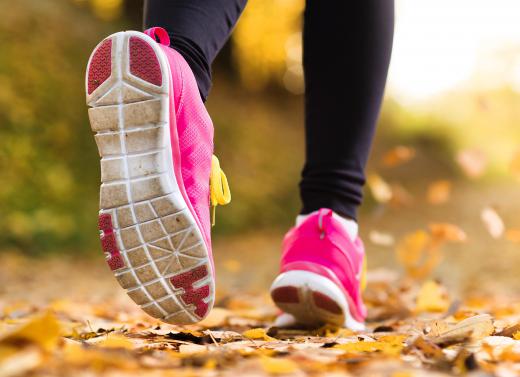 A specialized use of the word trails, and therefore of walking trails, occurs in the Rails-to-Trails Conservancy program. The Rails-to-Trails program creates "Rail-Trails," multiple-purpose paths built on out-of-use railroad corridors and intended for use by bikers, cyclers, inline skaters, cross-country skiers, wheelchair users, and walkers. A variety of surfaces are possible, including asphalt, concrete, crushed stone, soil cement, resin-based stabilized material, boardwalk, recycled material, natural earth, and wood chips. In addition, there is a Rail-with-Trail program in which a public path is constructed parallel to an active rail line.
AS FEATURED ON:
AS FEATURED ON:






By: soundsnaps

A pedometer for walking.

By: magann

A walking trail near a waterfall could be slippery, so caution should be used.

By: Halfpoint

Walking trails may be primarily used by walkers or shared with runners and other fitness enthusiasts.

By: Imre Forgo

Many walking trails are shared by bikers.

By: Mat Hayward

Always check first to see if a walking trail permits dogs.

By: Dusan Kostic

Walking trails through wooded areas are especially popular.