What are Timolol Eye Drops?
Prescribed to help reduce eye pressure, timolol eye drops are clear, medicated drops inserted into the eyes to reduce the amount of ocular fluid the eyes produce. People who have eye diseases that increase pressure inside the eyes, such as ocular hypertension, use this medication to prevent serious complications that can arise from these conditions. It mainly controls the effects of the condition's complications, however; it cannot prevent the condition from becoming worse.
Timolol is what scientists call a beta-blocker, a type of drug commonly used as a high blood pressure medication. Many people use beta blockers to reduce the pressure in their blood vessels, but timolol differs because it specifically prevents vessel pressure inside the eyes. When blood vessel pressure becomes too severe, it can lead to heart problems and possible vessel blockages, but high eye pressure can lead to blindness instead. Used everyday, these eye drops can help prevent a person from becoming blind when used with other lifestyle measures.
People who have conditions that can cause eye pressure, including glaucoma and ocular hypertension, are often prescribed this drug. Ocular hypertension essentially means high blood pressure inside the eyes. Glaucoma is an eye condition characterized by nerve damage inside the eyes, which can affect a person's vision, eventually leading to blindness. Eye pressure can worsen the damage inside the eyes, and timolol eye drops are prescribed to reduce this risk.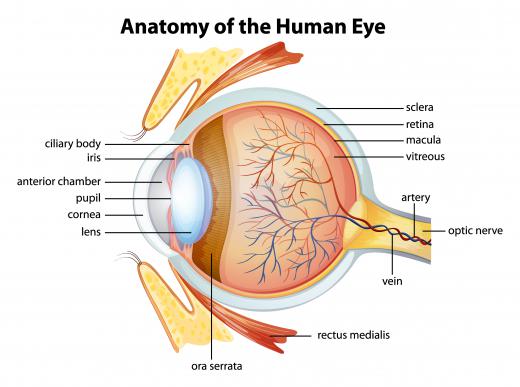 Timolol eye drops only work when directly applied to the eyes; the medication cannot be swallowed as most beta blockers can. Placing the drops on the eyes allows it to absorb quickly into the eye, reducing localized pressure and reducing ocular damage that can cause blindness. Usually one or two drops per day can help prevent this pressure; sometimes, doctors may recommend using a gel instead, which allows for a more concentrated, stronger application.
There are serious concerns with this drug — mainly its effects on blood pressure. While it can reduce blood pressure inside the eyes, it can also affect blood pressure throughout the entire body. It can make it easier for blood to flow, which can make it easier to bleed uncontrollably. An accidental cut, gash or wound may bleed for a long time; surgeons who operate on people using this drug may not be able to stop them from losing significant amounts of blood.
There can be serious health risks for people who already take medications that lower blood pressure, such as other beta-blockers. Using timolol eye drops with other beta-blockers can cause a person's blood pressure to drop to dangerously low levels, which can become life-threatening. Low blood pressure can also make people faint, dizzy or confused, which can affect their abilities to do even the simplest of tasks without feeling exhausted. Still, timolol eye drops are more likely to prevent blindness, which may be advantageous to some people regardless of its potential side effects.
AS FEATURED ON:
AS FEATURED ON:






By: vgstudio

Timolol eye drops are clear medication.

By: blueringmedia

Timolol eye drops help reduce eye pressure.

By: Winai Tepsuttinun

Timolol eye drops are designed to reduse the amount of ocular fluid that the eyes produce.

By: niyazz

Timolol medication is also used to treat high blood pressure.