What are the Treatments for Aggressive Breast Cancer?
A fast-spreading or late-stage form of breast cancer is often described as aggressive. This type of cancer may require aggressive treatment to increase the likelihood of saving the patient or prolonging her life. Among the treatments commonly used for aggressive breast cancer are mastectomy, radiation, chemotherapy, and lymph node removal. A type of treatment called neoadjuvant therapy, which is focused restricting cancer cell growth, may help as well.
Often, a mastectomy is used to treat aggressive breast cancer. A mastectomy is a surgical procedure used to remove a woman's entire breast. Depending on how aggressive a tumor is, a surgeon may remove only the breast; the breast and the lymph nodes; or the breast, the lymph nodes, and the muscles beneath the breast. While mastectomies are most commonly used as a treatment for aggressive breast cancer, some women also choose them as a preventative measure in an effort to make sure the cancer won't return.
Radiation is also among the treatments used for aggressive breast cancer. This treatment involves the use of beams of radiation to damage or destroy cancer cells in a target area. Radiation damages cancer cell deoxyribonucleic acid (DNA), which serves to slow or stop growth and multiplication; some healthy cells may be damaged as well. Healthy cells, however, are more capable of repairing the damage caused by radiation than cancer cells. Depending on the patient's unique case, radiation therapy may be delivered via a machine located outside the body or via pellets inside the body.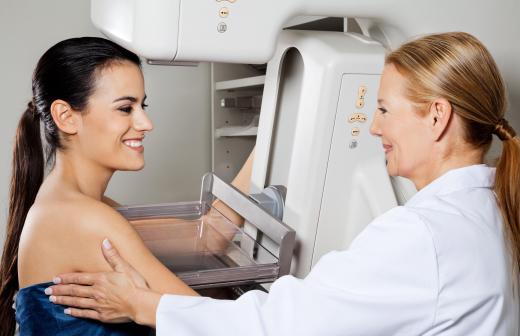 Doctors may also recommend chemotherapy for aggressive breast cancer treatment. Chemotherapy involves the use of potent medications that help destroy cancer cells and impair their ability to grow and divide. This type of treatment is used to target not only the cancer cells of the breast cancer tumor, but also those that have spread to other parts of the body. Chemotherapy treatment is targeted at cells that divide quickly, as breast cancer cells do. Unfortunately, this treatment may also damage or destroy other cells that divide quickly, such as those in a person's bone marrow and hair follicles.
Sometimes neoadjuvant therapy is used for aggressive breast cancer treatment. This treatment involves shrinking a breast cancer tumor in order to allow surgeons to remove cancer via less radical surgery. For example, surgeons may use chemotherapy and radiation to shrink a tumor and slow its growth. If this is successful, they may need to remove less of a patient's breast tissue along with the cancer. Doctors may also use neoadjuvant therapy with the goal of stopping the spread of cancer cells.
AS FEATURED ON:
AS FEATURED ON:






By: BVDC

Chemotherapy is one of the tools used against aggressive breast cancer.

By: Tyler Olson

Mammograms are performed to detect the presence of breast cancer.

By: derege

A surgeon may recommend a mastectomy for a woman with aggressive breast cancer.

By: tawesit

Aggressive breast cancer may require treatment with chemotherapy.