What Are the Most Common Side Effects of Acupuncture?
Negative side effects of acupuncture are relatively rare, although they may occur, especially if the practitioner has not been properly trained or certified. Some of the most common side effects of acupuncture include infection, discomfort, or bruising. Organ damage may also result, especially when respiratory disorders are being treated. Positive effects of acupuncture may include a feeling of deep relaxation or an overall sensation of well-being. Specific questions or concerns about the possible side effects of acupuncture should be discussed with a doctor or certified acupuncturist.
Bacterial infections are among the possible side effects of acupuncture. Skin infections are the most common, although the bacteria can sometimes move into the bloodstream and travel into other areas of the body. The most likely causes of these infections are the use of unsterilized needles or unsanitary habits on the part of the practitioner. Properly certified acupuncturists are not likely to work in unhealthy or unsanitary conditions.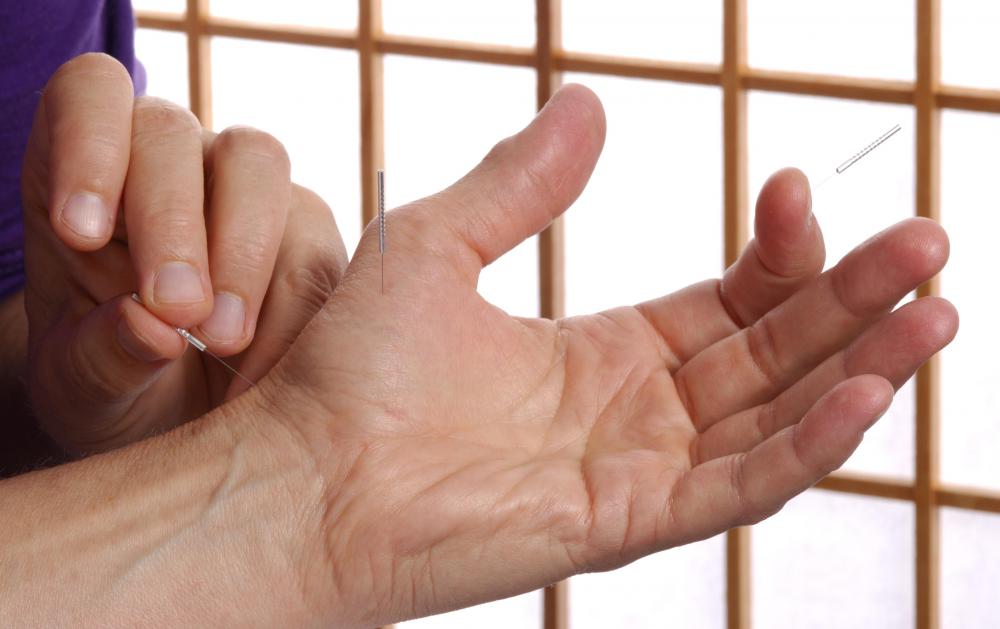 Skin irritation and mild discomfort are the most frequently reported side effects of acupuncture and usually disappear shortly after the procedure has been completed. Minor damage to surface capillaries may cause bruising or light bleeding. Occasionally, organ damage may occur as a result of acupuncture. This usually happens if the lungs are accidentally punctured during treatment for respiratory disorders. This type of puncture may lead to a medical condition known as a pneumothorax, more commonly referred to as a collapsed lung, and is considered a medical emergency.
Temporary side effects of acupuncture may include worsening of symptoms, changes in sleep patterns, or emotional imbalances. For the first couple of days following an acupuncture session, the original symptoms may seem to become worse due to the process of energy regulation within the body. Sleep patterns may become affected, primarily resulting in insomnia, especially if herbal remedies are used during the acupuncture appointment. Emotional regulation may be difficult for the first few days following treatment, but this typically evens out as the healing process progresses.
Acupuncture can result in feelings of deep relaxation and relief from stress, sometimes leading to lightheadedness. It is often suggested that the patient find someone else to drive him home following the procedure because these side effects can be a bit unpredictable. Temporary disorientation may also occur, and it may take a few minutes for equilibrium to be restored when standing after the procedure. Giddiness and euphoria are also among the possible side effects of acupuncture.