What Are the Different Uses of Argan Oil?
Argan oil is produced from argan trees found in Morocco and has a variety of cosmetic and health benefits. This oil is used extensively as a skin moisturizer and is thought to slow the aging process and reduce the appearance of stretch marks, wrinkles, and other skin blemishes. It is also believed that argan oil strengthens brittle nails and helps repair damaged hair. The use of argan oil in cooking may help to reduce cholesterol levels and promote overall heart health.
As a moisturizer, argan oil can be safely used on all parts of the body, including the area around the eyes. A small amount of this oil goes a long way and is not prone to leaving an oily residue on the skin. To use this product as a facial moisturizer, it can be gently massaged into the skin once or twice per day. As a body moisturizer, argan oil is typically applied after a bath or shower to clean, dry skin. Although this oil may be used following sun exposure, it should not be applied to the skin prior to exposure to the sun, as it may increase the risks of sun damage.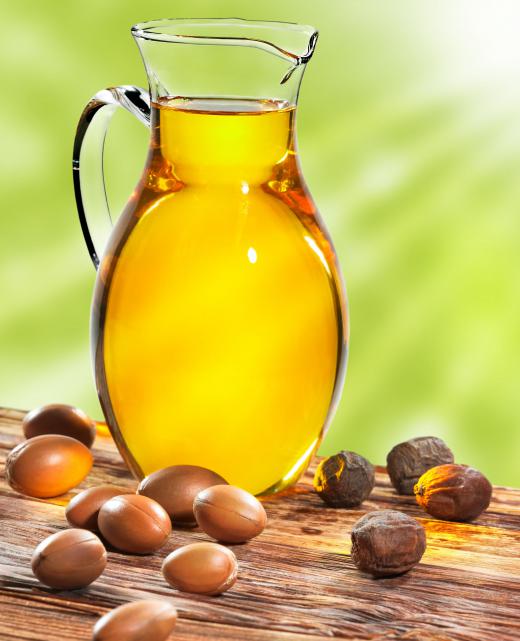 Many people use argan oil to reduce the appearance of stretch marks or other blemishes, and this product is also believed to make wrinkles less visible. Due to its natural healing properties, this oil is often used to treat skin conditions such as eczema or psoriasis and may be used as a massage oil to reduce pain and inflammation caused by sore muscles or joints. When mixed with lemon juice, the oil made from argan trees can be used to soak the fingers in order to strengthen brittle nails and promote cuticle health.
Those who have dry scalp issues or damaged hair may benefit from the use of argan oil. The oil can be massaged directly into the scalp or used to saturate the hair and can be rinsed after 30 minutes. If a deeper treatment is desired, the oil can be left on the head overnight and covered with a towel or shower cap.
Believed to promote cardiac health and reduce cholesterol levels, argan oil can be used for cooking or as a salad dressing. Due to the expense of this rare oil, it is primarily used as a condiment and sprinkled over salads or used as a dip for bread. For those who do not mind the expense, this oil is said to have a pleasant nutty flavor and can be used in place of most oils for general cooking purposes.
AS FEATURED ON:
AS FEATURED ON:






By: cut

Argan oil is derived from the fruit of the native Moroccan Argan tree.

By: Lucie Říhová

Argan oil has moisturizing properties, making it a good treatment for dry skin and hair.