What Are the Different Types of Updos for Kids?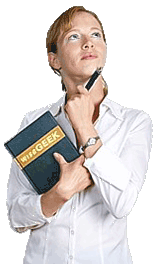 Ponytails are one of the easiest and most popular types of updos for kids, and these can be casual or elegant, depending on the situation. Classic buns are also easy updos, and these can be created by twisting the hair of a ponytail and pinning it to the hair closest to the scalp. Pigtails, braids, and half-updos are also popular children's hairstyles. Updos for special occasions, such as wedding updos, can also be created by salon professionals.
When one thinks of updos for kids, ponytails typically come to mind. Ponytails are often thought of as casual updos, but they can also be made into elegant or formal updos. To create a classic ponytail, the hair is gathered at the back up the head and secured with an elastic hair band. A ponytail can be positioned high or low on the head, or even off to the side.
A strand of hair can also be wound around the elastic band and pinned into place for a more elegant look. The hair of a straight ponytail can also be curled for added texture and volume. Ponytails can also be adorned with hair accessories to make them appear slightly more formal.
Ponytails can easily be made into other updos for kids, such as buns. To create a bun, the hair of a ponytail should be twisted and wrapped around the base of the ponytail. The ends of the hair can then be tucked under the hair, and the bun can be pinned in place with bobby pins.
Pigtails, which are basically two ponytails on each side of the head, are very popular casual updos for kids. A child's hair should first be parted right down the middle of the head, from the front to the back. The hair on each side of the head can then be secured with elastic hair bands. Like ponytails, pigtails can either be low or high on the head.
Braids are common pigtail and ponytail variations. To do this, the hair is divided into three sections, which are woven together. French braids also make elegant updos for kids. These are created by adding a small section of hair to one of the original three sections of hair each time it is woven into a braid. Herringbone braids and waterfall braids are other attractive braid variations.
Half-updos can also be created. As their name suggests, only half of the hair is put into an updo. To create a simple half-updo, the top half of the hair, from the ears up, can be gathered and secured with and elastic hair band. This section of hair can also be braided, twisted, curled, or adorned with pretty hair accessories.
For formal events, such as weddings, some parents take their kids to a salon so professionals can create an updo. Skilled professionals can often create a variety of formal updos for kids. They will also adorn the hair, if desired. Flowers, ribbons, bows, and even jewels can be added to just about any hair style.


Woman holding a book