What Are the Different Types of Technical Analysis Software?
Like most stock trading, technical stock techniques often have software programs designed specifically for the process. Many types of technical analysis software packages are available depending on the individual or institutional investor. Different manufacturers produce these software packages, making it possible for investors to shop around to get the one that best suits their needs and price ranges. Technical analysis software types include end-of-day charting, real-time technical analysis, and data feed packages. Each type offers a different approach to technical analysis.
End-of-day technical analysis software provides charts at the end of every trading day. Charts are among the most important tools used for making stock picks. Investors tend to review minute points on charts in order to make a buy or sell. In many cases, this software package is invaluable because technical analysis takes advantage of very short, quick changes in a stock's price. Having accurate and readily available end-of-day charting software can help put investors ahead of others.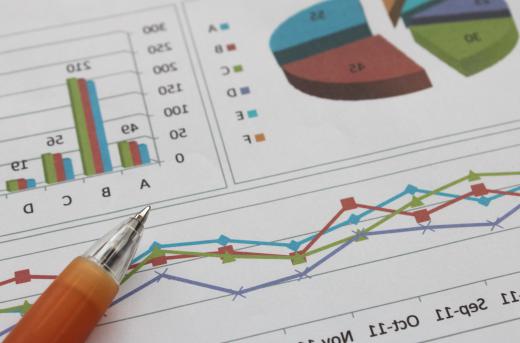 Real-time technical analysis charting occurs throughout the trading day. This technical analysis software is typically expensive and owned by the most powerful brokers or institutional investors in a market. The main use of this software is the ability to take advantage of inter-day price movements that last for short periods of time. For example, a technical chart may reveal a small change in a certain direction, whether up or down. The real-time technical analysis charting software picks this up and allows for day trading in order to make money off the stock price moves.
Data feed technical analysis software represents a high-quality data feed from a stock market into an investor's computer. Unfortunately, the better packages are again expensive and may be out of reach for smaller investors or those who do not have the time to constantly review the data. Charts may also not be a part of these packages; add-ons to a standard base model may increase the price significantly if an individual chooses this product. Online websites may offer memberships that result in gaining a data feed for stock trading. Investors should select a package that does not slow down during heavy trading periods.
Investors should carefully review any technical analysis software prior to purchase and use. In some cases, a free trial period may be able to help investors determine which software works best for their trading styles. It is important to avoid overpaying for features not needed.
AS FEATURED ON:
AS FEATURED ON:






By: カシス

Charts are among the most important tools used for making stock picks.

By: Halfpoint

An investor can use data feed technical analysis software to receive high-quality data onto their computers.