What are the Different Types of Sleep Apnea Products?
There are several types of sleep apnea products that sufferers may wish to take advantage of. Nasal strips, sleep monitors, breathing masks, and oxygen tanks are all examples. They are typically used to help treat or keep track of apnea, which is the momentary cessation of breathing during sleep. Most sleep apnea products need to be used under the direct supervision of a doctor.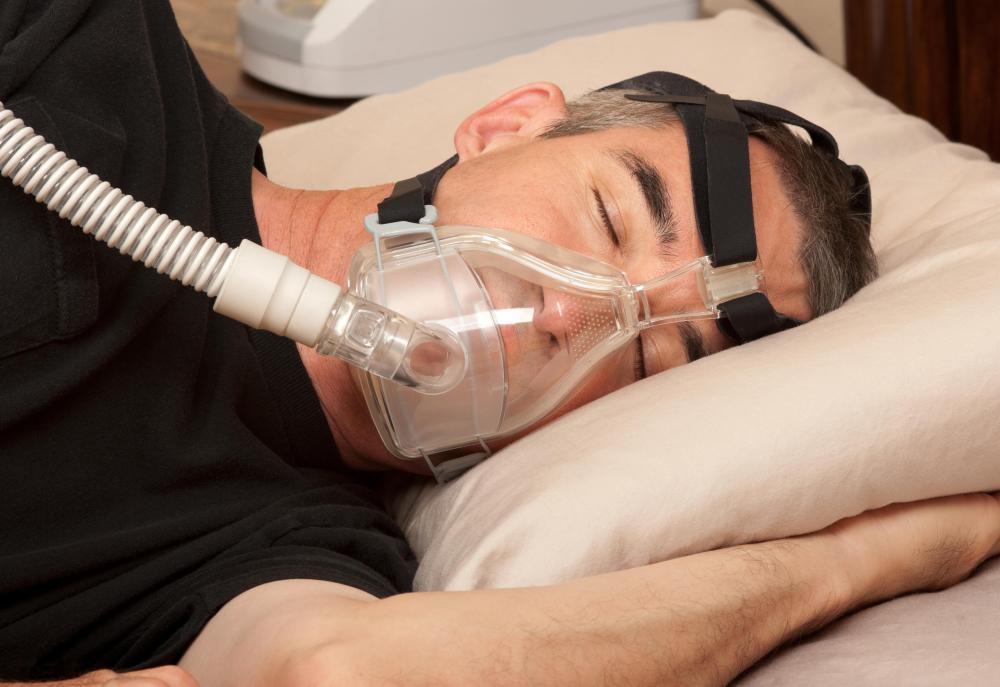 Specialized machines are types of sleep apnea products which keep track of the condition while a patient sleeps. One type is simply called an "apnea monitor" and uses wires connected to the patient's chest attached to a screen or alarm. It keeps track of any periods of non-breathing which happen during the night. They are often used in the diagnosis of sleep apnea, and in some infants to sound an alarm to alert parents of the child when he or she is not breathing.
Other sleep apnea products are used for the treatment of the condition, and can include oxygen masks and tanks, as well as nasal strips to open the nostrils and allow better airflow. Oxygen may be needed to keep enough of it in the lungs and blood during sleep. Other medications may be used to help open passageways to prevent apnea episodes.
Since many patients with apnea are overweight, weight loss equipment may also be considered sleep apnea products. Losing weight reduces the risk of apnea episodes tremendously and may even cure the condition. Special bedding or bed accessories also can be used as sleep apnea products; especially those which help tilt the patient into an upright position to help open the nasal passages.
The use of sleep apnea products may be temporary or long term, depending on the individual circumstances. Infants who are placed on monitors to detect apnea episodes are generally removed from them at one or two years of age, as they often grow out of the condition as they get older and breathing becomes regulated. Apnea which is caused by obesity may also be temporary if the patient loses weight. Other conditions may require long-term monitoring of breathing.
In very severe cases, blood oxygen levels may continuously need to be monitored during sleep with the use of wires connected to the patient's toes, fingers, or chest. If levels drop too low, and alarm may sound to wake him or her up and stimulate breathing. This is rare, as sleep apnea is not generally life threatening, although it does increase the risk for heart attack, stroke, and chronic fatigue.
A man with using a BiPAP breathing mask to manage sleep apnea.

By: BVDC

CPAP machines provide constant air management to alleviate sleep apnea.