What are the Different Types of Online Paralegal Courses?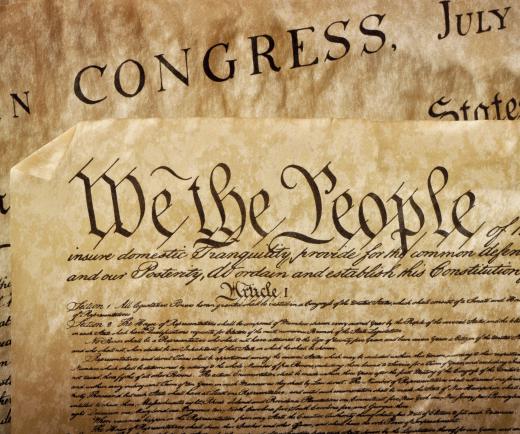 Some of the more common online paralegal courses include those that deal with history and government. Other classes could prepare individuals for performing legal research and writing. Various areas of law — such as real estate, family, civil litigation and criminal law — might also be covered. In addition, many colleges prepare students for an internship at a local law office or government agency.
History and the basics of governmental operations are important subjects for students in many countries. In the U.S., online paralegal courses could cover the division of government into the legislative, judicial, and executive branches. They may also cover the Constitution in detail, explaining how it is the basis for many of the laws in that country.
A legal assistant can spend a great deal of time drafting documents for the court system. This often requires her to perform research on various laws and procedures. For these reasons, online paralegal courses often cover the topics of legal research and writing in significant detail.
Aside from creating legal documents, a paralegal must also be familiar with many different areas of the law. This may include domestic issues, real estate, criminal matters, or estate planning. Many online paralegal courses deal with these and other legal topics in order to give students a good working knowledge of the statutes that might be common to their areas.
Many people find an internship to be helpful in gaining work experience in a legal environment. Many online paralegal courses prepare candidates to do this by covering legal ethics, terminology, and courtroom procedures. Once they have become familiar with these things, prospective paralegals can be ready to receive on-the-job training under the direct supervision of an experienced legal assistant or practicing attorney.
Online paralegal courses may prepare graduates to receive a career certificate or an associate's degree. The length of time can vary from a few months for a certificate to two years for an associate's degree. Most of the time, a person does not need to be certified or pass a bar examination in order to work as a paralegal.
In many places, there can be a constant need for paralegals to assist attorneys in preparing cases for litigation. Having the right education can be a first step towards obtaining employment in this area. This can mean that online paralegal courses may be a good choice for anyone interested in a legal career.


By: klikk

A paralegal course might focus on the U.S. Constitution.

By: Gina Sanders

Employers are more likely to hire paralegals who are certified.