What Are the Different Types of Oil-Free Cleansers?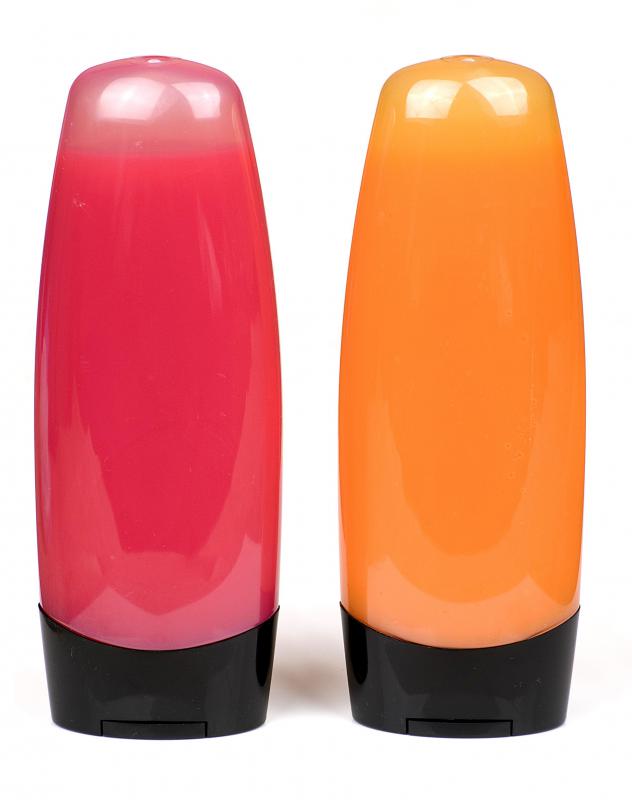 Oil-free cleansers are typically used by those who have oily or acne-prone skin, as ordinary cleansers that contain oil can clog pores and exacerbate problematic acne. There are several types of cleansers designed for the treatment of acne and oily skin, and many can be purchased at the supermarket or drugstore. Cleansers may come in a gel, scrub, foam, or cream form, and can be used on the face and other areas of the body prone to acne breakouts. Many of the oil-free cleansers will contain ingredients such as salicylic acid or benzoyl peroxide, both of which help to prevent and treat acne.
Although there are various types of facial and body cleansers available, many of these products contain oil and other ingredients that can worsen acne. Individuals who have oily or sensitive skin often opt for a cleanser that is free of oil and other pore-clogging components. Oil-free face and body washes typically contain mild cleansing agents, fruit extracts, and acne-fighting compounds known to combat blemishes. Those who decide to use oil-free washes instead of other cleansers may need to moisturize the skin afterwards, as these types of cleansers can also be very drying.
There are a multitude of different types of oil-free cleansers to choose from, many of which are designed for specific needs. Gel and cream washes are the most common forms of this type of cleanser, and will generally provide a sufficient, thick lather when combined with water and used on the skin. Foam cleansers normally produce an adequate lather as well, but are typically thinner in consistency and can be more drying than cream or gel washes. Scrub cleansers are used to exfoliate dead skin cells and reduce the appearance of blackheads. Since scrubs can be harsh on sensitive skin, they should only be used a couple of times a week.
A large amount of oil-free cleansers are also designed for those who have combination or dry skin. Someone who has oily skin in some areas but dry spots in other regions can benefit from the use of a cleanser made for combination skin. Those who have dry skin can also break out from time to time and may benefit from using an oil-free wash, followed by a moisturizer. Cleansers that contain mild ingredients and soothing properties are best for individuals who have sensitive or irritated skin. When choosing a moisturizer to follow an oil-free cleanser, it is best to choose one that is also free of oil and other pore-clogging ingredients.
Many oil-free body wash products are available.

A facial scrub with exfoliating beads can be effective for reducing oil and eliminating blackheads.

Oil-free cleansers can be used on the face or other areas of the body that may be prone to acne breakouts.

Some foaming cleansers are formulated to treat acne.