What Are the Different Types of Nursing Opportunities?
There are many choices a person may consider when it comes to nursing opportunities. For example, one individual might choose to become a registered or licensed practical nurse while another may opt to continue his education and become a nurse practitioner. If an individual is interested in a nursing job that requires less training, he could become a nursing assistant. In addition to the type of nursing job, an individual has the choice of many different nursing fields, including pediatrics, geriatrics, or trauma care.
When an individual is interested in nursing opportunities, one of the most common choices is becoming a registered nurse. This type of nurse provides patient care under the supervision of a doctor but often performs much of his work independently. In fact, a person who becomes a registered nurse and gains significant experience may one day supervise other registered nurses and members of a health care staff. This job typically requires a student to complete a nurse education training program that lasts for about two years, though some people choose to earn bachelor's degrees in nursing instead. Most jurisdictions require aspiring registered nurses to pass a licensing exam as well.
Also among the different types of nursing opportunities a person might consider is that of a nurse practitioner. A nurse practitioner is a type of registered nurse who continues on to get advanced nursing education and training. In most cases, this additional education and training qualifies a nurse practitioner to perform many of the same tasks as a doctor. For example, he typically can diagnose and treat patients, and in some jurisdictions, these nurses can perform minor surgeries as well. Some nurse practitioners even work as primary care providers.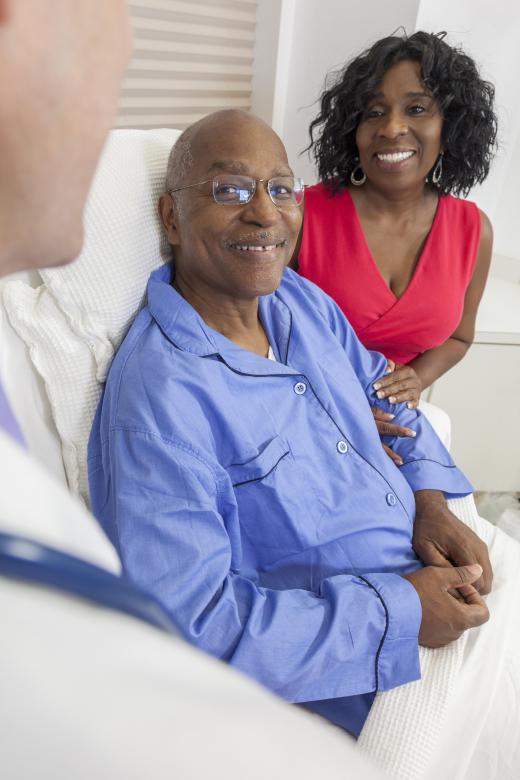 Licensed practical nurse jobs are also among the nursing opportunities a person may pursue. This job typically requires less education and training than registered nurse jobs but still involves a good deal of responsibility. Often, a person can become a licensed practical nurse after completing a vocational school or community college nursing program that lasts for about nine months to a year. A licensing exam is usually required as well. The responsibilities of this position include such tasks as monitoring patients, administering medications, caring for wounds, and performing patient tests under the supervision of doctors and other nurses.
Nursing assistant opportunities are also among those available to a person interested in a career in nursing. Usually, a nurse assistant provides patient care under the supervision of registered and licensed practical nurses. A person with this title performs a range of duties in order to assist other nurses. For example, he may transport patients throughout a medical facility, take vital signs, help monitor patients, and help with personal care tasks such as bathing. He may also feed patients, help them dress, make beds, and change bedpans. Usually, a person can become a nursing assistant after completing a six-to-eight-week training program.
In addition to the various types of nursing jobs a person may choose, there are numerous health care fields from which a person can select. For example, an individual could choose a pediatric or geriatric nursing job. Cardiology, dentistry, neurology, gynecology and obstetrics, and trauma are also among the many fields a nurse can consider.
AS FEATURED ON:
AS FEATURED ON:






By: pablocalvog

Nurse practitioners are licensed to provide medical care.

By: spotmatikphoto

Geriatric nurses need specialized empathy and listening skills when interacting with patients and their caregivers.

By: Gabriel Blaj

A career as a licensed practical nurse requires less education and training than a registered nurse.

By: Monkey Business

Nurse practitioner programs are graduate level, with students earning either a master's or a doctoral degree upon completion.

By: WavebreakMediaMicro

Pediatric nurses may assist patients up to the age of 18.

By: Tim Glass

Trauma nurses work in emergency rooms.

By: michaeljung

Some nurse practitioners work as primary care providers.