What are the Different Types of Natural Paving? (with pictures)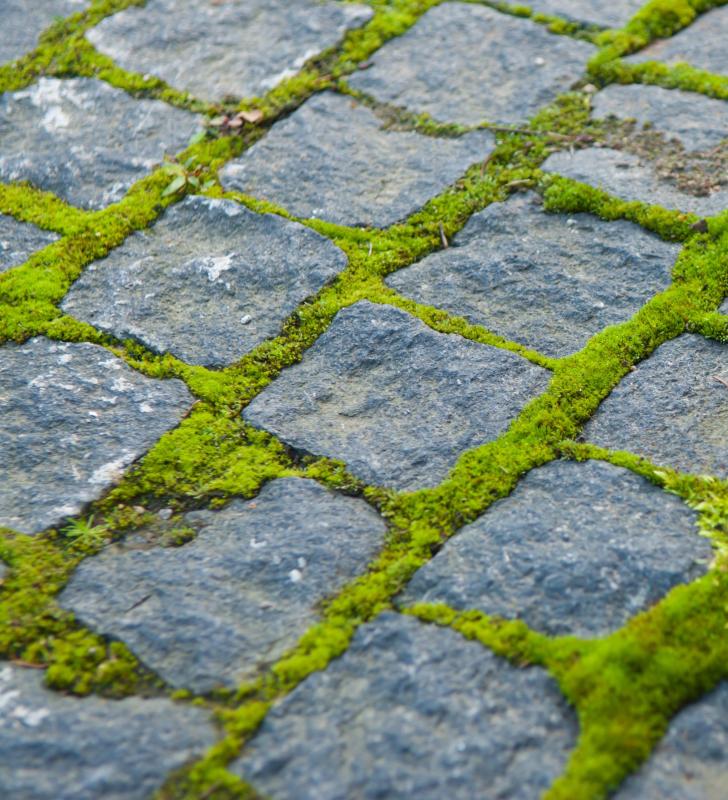 When considering natural paving for a home or business, there are plenty of choices available. For convenience and quality, many people choose to hire a professional contractor to take care of the installation process. Professional contractors can offer advice and informed suggestions on the types of stones that should be used for the most natural landscaping possible. Some common types of natural paving stones include cobblestone, flagstone, and travertine pavers. Natural stone pavers are are mined from stone quarries, and many companies adhere to strict conservation guidelines when mining for the stones.
Cobblestone is perhaps the most well known, as well as one of the oldest types of natural stone used for natural paving. It was commonly used in Europe and in early America when building roads and small alleys. Designers and landscapers like to use cobblestone when designing for an traditional look for the landscaping. Originally, these stones were found in riverbeds where the water current had worn their surfaces smooth and round over the years. Cobblestones are now quarried by stone mining companies, and then taken to a factory where they are rounded and shaped mechanically.
Flagstone is another type of natural paving material, and can be any type of quarried natural stone. Unlike cobblestones, flagstone has always been quarried and then shaped in flat, thin pieces for easier installation in natural driveways and other construction and landscaping projects. Its versatility, color variety, corrosive-resistant properties and low maintenance make flagstone a popular choice for natural paving. Flagstone is usually more expensive than composite pavers, but using natural stone adds greater value to the property.
Like cobblestone, travertine pavers are another type of old stone material used in creating natural landscaping and roads. The use of travertine in paving has been documented before the Roman Empire era, and is considered to be incredible durable and long lasting even by today's standards. Travertine is readily identified by the naturally occurring pitted holes in the surface of the stone. Depending on both the intended use for the travertine and personal preference, the stone can either be left in its original pitted state or filled in for a smoother finish. Filled in travertine pavers can also be buffed and polished to a shiny finish if desired.
All natural stone pavers are extracted from stone mines. Stone quarries are open pit mines and are heavily regulated. Some of the issues faced in open pit mining practices include water drainage and groundwater contamination, environmental concerns and land erosion, and workers' safety. The high cost of natural stone paving materials can be partially attributed to the mining process.
Moss growing between cobblestones.

Since they must be laid out in a precise manner and may have to be shaped to fit a particular location, cobblestones are usually laid out by tradesmen.

Flagstones are any type of natural quarried stone.

Many types of natural paving have to be mined from stone quarries.