What Are the Different Types of Internal Medicine Services?
Doctors who specialize in internal medicine may provide a number of different types of services to their patients. These doctors may be generalists or they may specialize in a certain field such as gynecology or cardiology. Patients with acute or chronic conditions may receive internal medicine services that help them recover from these conditions. Healthy patients may also receive services to ensure that they remain in good health.
One of the most common types of internal medicine services is preventative care. Doctors who are trained in internal medicine can be found at hospitals, clinics, and private offices, all of which frequently provide routine exams to patients who believe they are in good health. Patients who regularly receive preventative care are at less risk of developing serious illnesses because many illnesses, including many types of cancer, can be completely treated when they are caught early. Some common preventative care exams include physicals, eye exams, cervical exams, and well-child exams.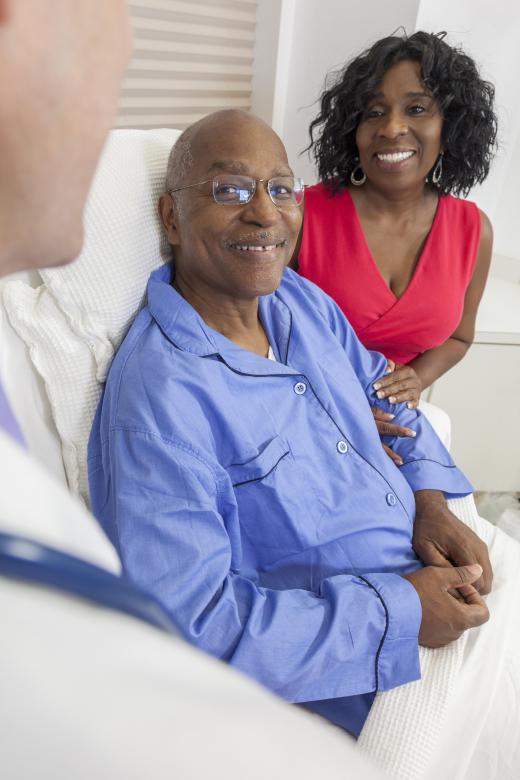 Doctors who provide internal medicine services may also diagnose and treat common as well as uncommon illnesses. Asthma and diabetes are often found by these types of doctors, who will then work with their patients to develop a treatment plan that may include lifestyle and diet changes, therapy, and medication. Patients who have less common conditions, such as tropical diseases or serious viral or bacterial infections, may see an internal medicine specialist to receive a diagnosis and to begin treatment.
In a hospital setting, internal medical services can also include urgent and emergency care. Patients with serious, acute disorders, such as heart attack or stroke, will receive care for these conditions when they arrive at the hospital. Doctors who work in internal medicine will often collaborate with other specialists, including surgeons and pharmacists, to deliver the best possible care to these patients.
Patients with chronic conditions may also receive internal medicine services. In some cases, doctors and nurses will go to a patient's home, in order to evaluate the health of the patients. It is also possible for patients to travel to their doctors for regular check-ups and evaluations when they have chronic conditions. Doctors will diagnose any additional disorders that have developed and will make sure that treatment plans are working when they provide ongoing services to these types of patients. These types of internal medicine services are often needed by geriatric patients who often develop conditions that will persist for the rest of their lives.
AS FEATURED ON:
AS FEATURED ON:






By: spotmatikphoto

Some medical internists specialize in working with geriatric patients and their caregivers.

By: endostock

Doctors in internal medicine may choose a speciality like gynecology.