What Are the Different Types of Internal Medicine Jobs?
Physicians trained in internal medicine, also known as internists, have a number of different types of job opportunities that they can pursue. Opportunities are available in hospitals, clinics, and universities. Doctors can practice general medicine or specialize in a certain system of the body. Other internists might focus less on direct patient care and instead do research, teach students, or work to help develop public policy.
One class of internal medicine jobs available to internists is hospital jobs. Some doctors become hospitalists, meaning that they specialize in managing the care of adult patients while they are in the hospital. These physicians often work shifts during which they admit patients to the hospital and also care for patients who have already been admitted. Other doctors specialize in certain aspects of internal medicine, such as cardiology or gastroenterology, and serve as consultants in the hospital, giving advice on how to best manage patients with complicated diseases. Some doctors specialize in critical care medicine, and manage patients who are in intensive care units.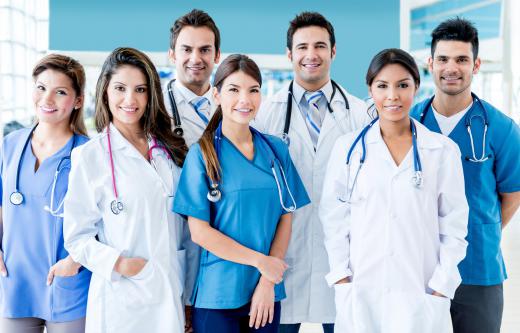 Other internal medicine jobs focus on outpatient care. In these jobs, internists see patients at their regularly scheduled appointments, and can manage their chronic medical conditions and also deal with acute illnesses that develop. Some internists work by serving as patients' primary care physicians, managing all aspects of their health. Other internists specialize in different organ systems and only address certain illnesses.
Some internal medicine jobs are available in academics. With these jobs, internists often combine patient care with teaching medical students and doctors in training. They might teach medical school classes or manage teams of doctors still learning how to practice medicine independently. Often these physicians have opportunities to pursue research as part of their academic careers.
Doctors desiring a focus on research can also pursue a number of different internal medicine jobs. They might prefer doing research instead of taking care of patients or teaching students. Jobs could be available for these doctors in universities, at pharmaceutical companies, or with governmental organizations that promote the pursuit of knowledge.
A variety of other eclectic internal medicine jobs could also be pursued by interested individuals. Some internists have an interest in global health, and might work internationally with underserved populations. Others have an interest in public policy, and might work to help lawmakers understand the best ways to regulate the health care industry and offer medical care to indigent populations. Internists with an interest in business could pursue leadership positions in hospitals, pharmaceutical companies, or other health-related companies.


By: Edyta Pawlowska

Doctors of internal medicine usually choose a specialty, such as oncology or cardiology, to specialize in.

By: nerthuz

Doctors who practice internal medicine can specialize in both organ health and external conditions.

By: Andres Rodriguez

Opportunities for internists are available in hospitals, clinics and universities.