What Are the Different Types of Home Theater Products?
Most everyone knows that home theater products include an extensive amount of electronic equipment. The television or projector equipment and the speaker system are the minimum requirements for a system. Depending on the sophistication of the system, a satellite system, computer, and other electronic equipment may also be included. Home theaters also include a variety of furniture, possibly some that is custom made for a home theater environment. The sophistication and variety of home theater products is only limited by one's imagination and budget.
The most central component to a home theater is the television or projection system. Most of the newer technologies focus on 3D capabilities, but there are still plenty of more traditional systems on the market. These systems include projectors, LCD televisions, LED televisions, and plasma televisions. The size of the television used to be limited by the size of the room and viewing angles, but most modern televisions can be viewed comfortably from nearly any angle.
Closely related to the television or projection system in home theater products is the speaker system. Most home theater speaker systems are meant to deliver sound in what is known as the surround sound experience, similar to what is produced at a commercial movie theater. The equipment should include a center channel speaker, as well as a speaker on both the front left and right sides. Surround speakers, which are smaller, may be placed at other spots throughout the room. The subwoofer delivers most of the base sound for the system.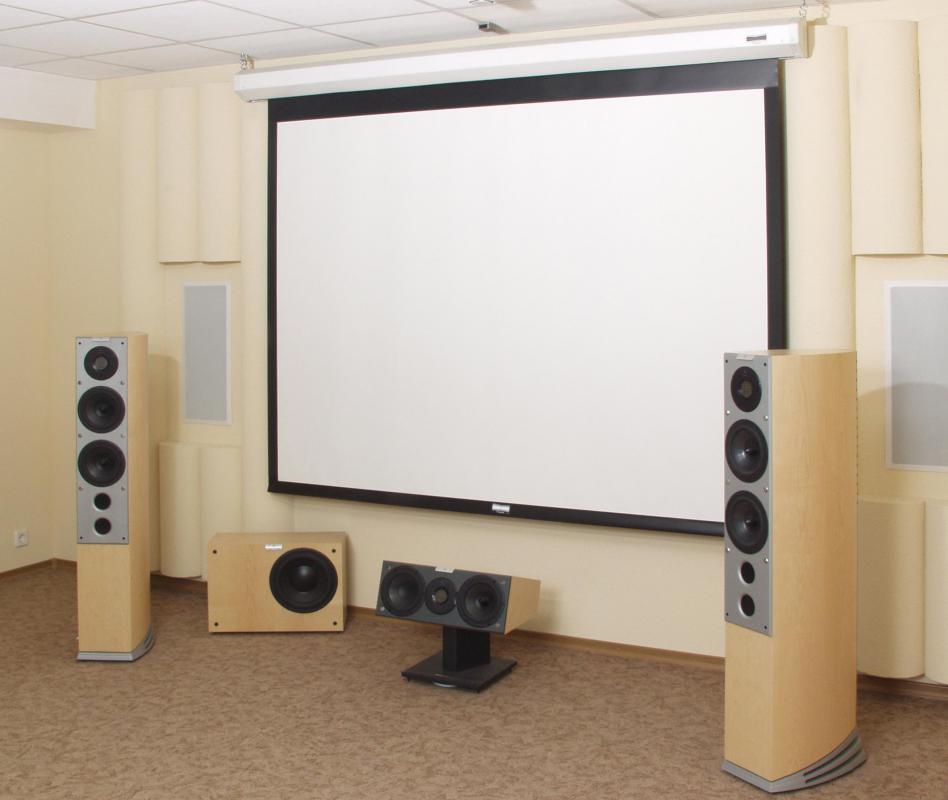 In addition to these pieces of electronic equipment, some home theaters may use computers to control everything. This allows individuals to pull up movies simply by touch of the computer. The computer system could also be used for sound mixing and other theater-specific operations. This is an option many may choose, but not all computers may be suitable as home theater products.
Furniture is another one of those home theater products that often gets overlooked. Many companies specialize in chairs and lighting that is specifically designed for a home theater experience. The overall goal is to make the experience much like going to a commercial movie theater, but to do it in a more luxurious way, and on a smaller scale. Chairs may recline, have dedicated cup holders, storage areas, and other such features.
Other optional accessories also are available as home theater products. These include mounting brackets and window dressings to ensure the light does not penetrate into the theater when it is not wanted. Other accessories may help to hide or conceal unsightly wires. Some, going for the complete theater experience, may even purchase a popcorn popper.
A Blu-ray® player for a home theater.

Some home theater systems use a projector.

Home theaters can include large TV screens and several audio components.

A projection screen and speakers are two of the most important products for a home theater.

Home theaters often deploy state-of-the-art high-def TVs and video players, with the latest digital and wireless audio equipment.