What Are the Different Types of Home Theater Furniture?
Certain types of home theater furniture make it possible to replicate the look and feel of a cinema without leaving the house. Homeowners interested in creating an atmosphere that seems perfect for watching movies tend to use various types of seating, such as couches with cup holders that light up and reclining chairs. It also is important to give the television a place to go, which is why TV mounts, stands and entertainment centers are often used when planning home theater design. Additionally, some people increase the height of the seats and speakers for the ultimate viewing experience.
One of the main types of home theater furnishings is seating, which is often necessary for everyone to feel comfortable while being entertained. Regular couches, loveseats and chairs are often fine for the typical media room, but it is possible to improve comfort with home theater furniture that has lots of extra features. For example, seating with cup holders makes it easy for people to enjoy a beverage while watching a movie, especially when the cupholders include tiny lights so they are visible in the dark. Some couches also include storage areas between seats, such as under each armrest, offering a place to put remote controls or snacks. Many types of seating for the home theater also recline, so guests can lie back and watch the television, and some have a massage feature for even more relaxation.
Another piece of home theater furniture that is usually considered necessary is a stand for the television. This may be a simple shelf or table on which the TV is placed, or it may be a wall mount that keeps the screen high enough for everyone in the room to see. Among the most common types of TV stands is an entertainment center, which is typically large enough to span most of the wall, because it needs to fit the television and related accessories. Most entertainment centers feature drawers and cabinets, as well as a few open areas for the TV, gaming consoles and systems that play movies or music. In general, the only people who may not benefit from some type of TV stand are those who opt to use a projector that projects movies onto the wall.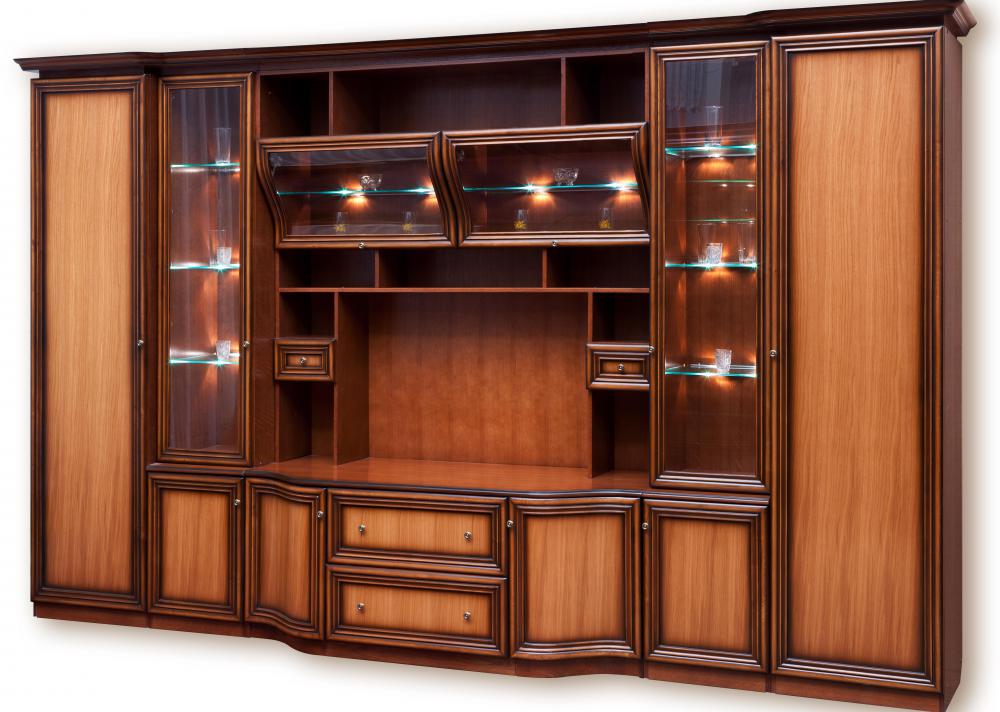 Some types of home theater furniture are not essential, but they can help people get the professional cinema look and feel they want. For example, some people choose to place their seating on risers, which makes seats in the back higher than those in front so everyone in the room gets a good view on movie night. Another type of home theater furniture that some may find helpful includes mounts or stands for the speakers so it is possible to get the benefits of surround sound with the strategic placement of speakers around the room.
Some home theater systems use a projector.

Projection screens may be part of a home theater.

A wall mounted television should be positioned at a height for all to see.

Home theaters may include a large entertainment center.

A stand to hold the television and related components is a common home theater fixture.

Recliners with a massage feature can help a person relax in their home theater.

One very important part of home theater furnishings is seating.