What Are the Different Types of Home Theater Cabinetry?
There is a wide range of home theater cabinetry, including modern, contemporary, formal, and traditional designs. Cabinetry can also be made from various materials, including metal, different types of wood, or particle board. Aside from material and style differentiations, different types of home theater cabinetry may come in various sizes, shapes, and colors. The exact type needed for a particular application will depend on a person's individual tastes and home theater setup.
Home theater cabinetry usually refers to a large unit with places to keep a television, movie players, and a sound system. Some also have additional storage for movies, games, consoles, and other common media accessories and equipment. They are often constructed of wood, although there are multiple species of wood which can be used. Common examples include cherry, oak, or sometimes pine. Some are comprised of a combination of veneers and solids, and some are combinations of real wood and particle board. Metal is also commonly used.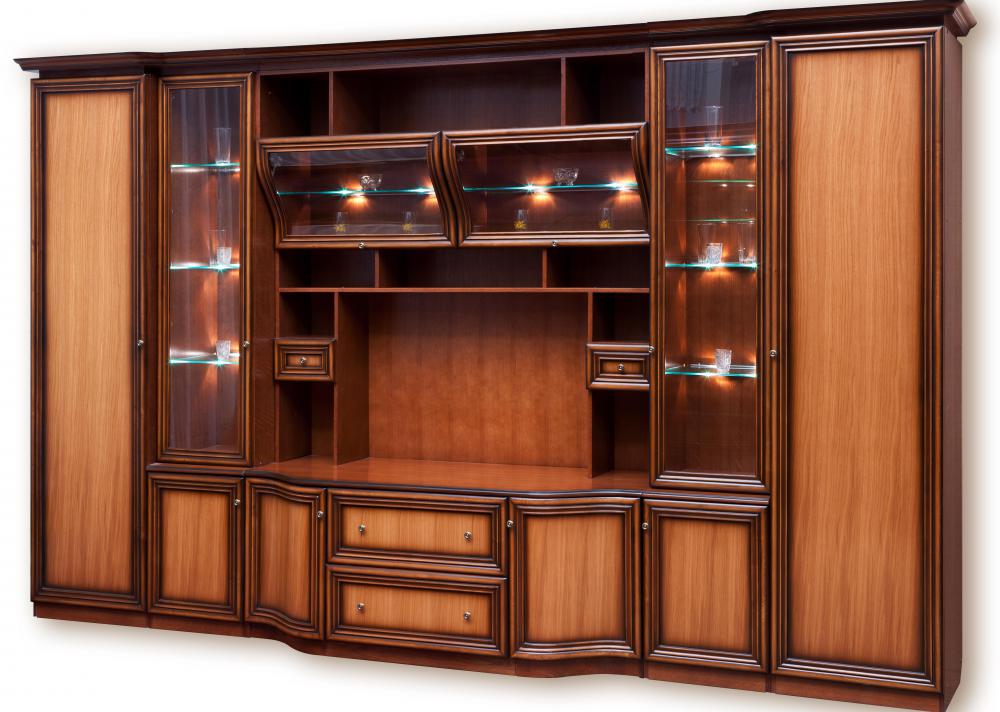 Although real wood was often required for larger televisions in the past, flat paneled TVs are much lighter. This gives homeowners a wider variety of home theater cabinetry to choose from, even if they have a larger screen. Some cabinetry is built directly into the wall, or it may be mounted to the existing wall. Homeowners can sometimes do these cabinets themselves. Decorative molding may also be added. Other times, a cabinetry system can be purchased and sat on the floor against the wall.
The size of the cabinetry used will vary based on how many items needs to be stored, and where the TV will be placed. Flat panel TVs can be mounted to the wall, so in this case a smaller cabinet would be sufficient. If this isn't the case, or if an older tubular television is used, a sturdier, and oftentimes much larger, cabinet will be required.
There are also various styles of home theater cabinetry available. Sleek and modern items are often constructed of metal, and they may have a brightly colored, chrome, or black finish. Traditional styles are also common, and these are often made from wood with a more natural finish. The overall style of cabinetry will generally depend on the tastes of the homeowner and the surrounding decor and furnishings.
Homeowners may find benefits to every type of home theater cabinetry. Built-in options can usually be customized to fit exactly what the person wants, while store-bought ones are more convenient. Different materials also have their own benefits. For instance, metals and hardwoods are long-lasting and will typically maintain their appearance through the years. Particle board and similar materials are often much less expensive, so they are accessible even to those with limited income.
A Blu-ray® player for a home theater.

Flat-screen televisions allow more options for home theater cabinetry due to their weight and size.

Entertainment centers sometimes include built-in cabinetry.

A smaller cabinet is all that's necessary if a television is mounted onto the wall.

Some home theater cabinetry is built directly into the wall, or it may be mounted to an existing wall.