What Are the Different Types of Home Office Printers?
The different types of home office printers include all-in-one and standalone devices, and use all of the major printing technologies. Standalone units are typically inexpensive, while all-in-one devices can be a good choice when space is at a premium. Most home office printers are either inkjet or laser, but there are other options available as well. Dot matrix is one older printing technology that can be useful in a home office for cheaply running off invoices and other similar documents. Many printers use universal serial bus (USB) to connect to computers, but a network enabled printer can be just as useful in a home office as any other work environment.
Any printer that is designed for personal use can also be used in a home office, though there are some specific features that can be well suited to heavier workloads. Printers that are designed for home office environments are typically intended to produce a larger number of pages per month than personal printers. Speed is another factor that is typically more important in home office situations, and so is the ability to produce documents that are crisp, clean, and professional looking. Many different types of home office printers are able to meet these higher demands.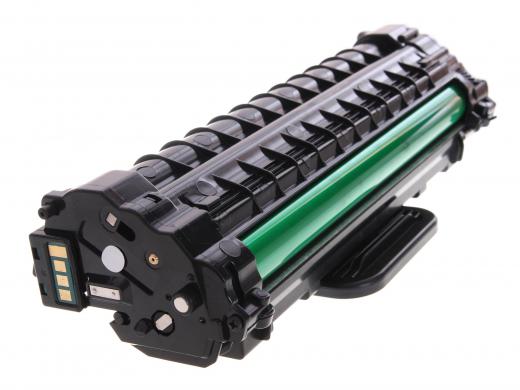 One common type of home office printer is the inkjet, which is typically inexpensive, compact, and capable of producing high quality documents. These printers are typically suited to home office environments with a moderate to low print volume. The replacement ink cartridges can be expensive in relationship to the number of pages printed, which may be offset by the lower initial cost of the printer depending on usage habits.
The other most common variety of home office printer uses laser technology. These printers are usually more expensive and use costly toner cartridges, but can print a large number of pages between refills. That makes laser printers well suited to office environments with high print volumes. These home office printers are also typically chosen if speed is an important concern, since they can usually print very quickly.
Another printing technology sometimes found in home office printers is dot matrix. This is an old technology that has been largely replaced by inkjet and laser printers, but it is still widely used in some capacities. Dot matrix printers are often very inexpensive to operate, and require less maintenance than other designs, so they are often used to print receipts, invoices, and other similar documents where high-resolution results are not so important.
Some home office printers are standalone, while others are combined with additional devices. Standalone printers are typically less expensive, and are a good choice if there is a lot of open space in a home office, or if other devices are not needed. All-in-one devices can include scanners, fax machines, copier functionality, and other options. This combination of different features often makes these devices well suited to home offices where space is at a premium, and is often cheaper than purchasing the different devices separately.
AS FEATURED ON:
AS FEATURED ON:






An ink cartridge.

Laser printer.

Multifunction printer.

By: bahrialtay

Most home office printers use a standard size of paper.