What are the Different Types of Gluten-Free Cookies?
An allergy or intolerance for gluten does not necessarily mean the end of sweet snacking. Due to increased awareness about gluten intolerance, there are now dozens of different types of gluten-free cookies and hundreds of home-baked recipes. With so many gluten-free cookies to choose from, the difficulty may lie in narrowing the choice down.
With homemade gluten-free cookies, the secret lies in replacing ingredients containing gluten, such as all-purpose flour, with equally tasty ingredients that will not trouble a gluten reaction. There are many types of flours that can be used as substitutes, but finding the best combination of taste and texture may take some experimentation. For peanut butter cookies, try blending tapioca, soy, and potato flours for a good alternative mixture. For classic chocolate chip cookies, replace regular flour with rice or tapioca flour. Delicious oatmeal raisin cookies can be made with gluten-free oats and a blend of oat and chickpea flour.
Gluten-free cookies that have a pastry base, such as rugelach, can be made by creating a gluten-free mixture of brown rice flour, potato starch, and cornstarch. This will help mimic the texture of a buttery pastry base while still remaining safe for those with gluten allergies. Even cinnamon rolls are not out of reach; potato starch, cornstarch, and a sprinkle of xanthan gum can make any gooey cinnamon dream come true.
For those nervous about experimentation with flours, there are some gluten-free flour mixes that are made especially for cookie bakers. Already combined for a maximum taste-texture experience, these boxed mixes are ready to be added to any cookie recipe in place of regular flour. Flour mixes are sometimes available in health food stores, but are also easy to find online. Depending on the product, a mix may be suitable for use in several types of desserts, including cookies, cakes, and sweet breads. Another option for warier bakers is frozen gluten-free cookie dough. These dough mixtures can be scooped directly onto a cookie sheet and baked until ready.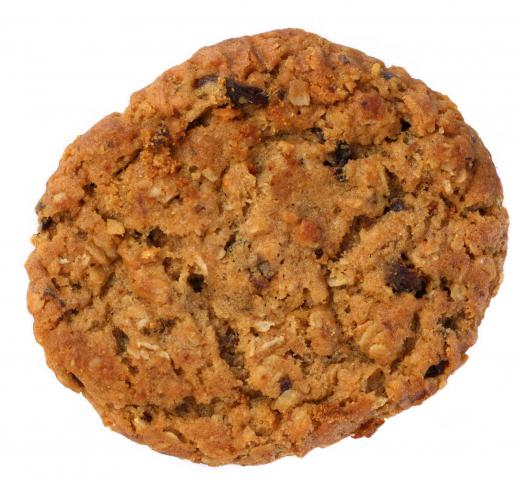 In addition to baking gluten-free cookies at home, there are a variety of commercial brands that can offer cookie relief on the double. A wider selection may be available at grocery stores that specialize in healthy and natural foods, but even large chain supermarkets may carry some choices. Flavors range from thin sugar cookies to thick, chunky brownies. Many are also suitable for people with lactose, egg, nut, and soy allergies as well, but be sure to read the ingredients label carefully for any hidden dangers.
AS FEATURED ON:
AS FEATURED ON:






Gluten-free chocolate chip cookie dough.

Gluten-free chocolate chip cookies.

A gluten-free oatmeal raisin cookie.

By: Calgary Reviews

A gluten-free cookie.

By: S.White

Gluten-free peanut butter cookies.

By: Alexandr

Potato flour, which can be used to make gluten-free cookies.

By: eAlisa

Millet can be used to make gluten-free flour for pastries and cakes.

By: Marnel Tomić

For a healthier gluten-free cookie, substitute carob chips for high-sugar chocolate chips.

By: Studio Gi

Gluten-free baking cannot employ wheat flour, so other flours must be used instead.