What Are the Different Types of Food Science Courses?
Food science courses are extremely diverse, including food processing, handling, and preservation. In addition, food's chemical composition is also studied to enhance flavor through strategic modification. Spoilage is also taught so that students understand the causes of food decomposition and how to avoid illness from these edibles.
Processing is one of the main food science courses that describes how a raw edible, such as corn, becomes a retail product, like a corn tortilla. Manufacturing practices are illustrated to highlight food safety within the processing industry; course particulars may cover efficient processing strategies for a cost effective final product, as well. Some students may visit a processing plant during a field trip to experience a real life assembly line for food products.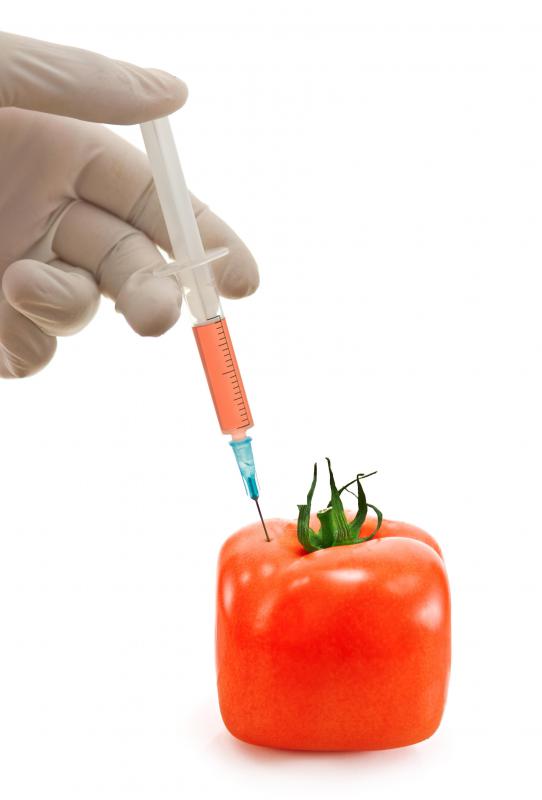 Food science courses must include handling procedures. Gloves and masks are routinely used to prevent germs from entering food products within a processing plant; students will learn about all the preventative measures taken to keep the food sanitary, such as requiring employees to wear hair nets. Handling also involves specific temperature ranges. Students must learn about the particular temperatures needed to keep certain foods from spoiling, such as dairy products and frozen foods.
Preservation of foods is also one of the important food science courses offered by most colleges. Some foods are preserved in vacuum-sealed bags, whereas others may need to be dehydrated before being bagged for the best product preservation. Additional preservation courses may include effective freezing temperatures to prevent freezer burn over a long storage time.
The chemicals within food can be modified to enhance nutrition and taste factors. Food science courses that concentrate on chemical structure normally cover natural compositions, as well as possible variances. These courses are typically supplemented with laboratory meetings to experiment with different foods and chemical alterations. For example, many orange juices are enriched with added calcium for greater consumer health benefits; food science courses provide the foundation upon which scientists can develop products enriched with added vitamins and minerals.
Food spoilage is another key course topic. Each edible has a different lifespan in the pantry, refrigerator, or freezer. Course work normally covers typical spoilage times for various foods, as well as methods of prevention. Some food scientists may run food spoilage experiments, with the aim of lengthening edible lifespans or altering spoilage dates on foods when new research indicates that previous durations were incorrect. Food borne illnesses can easily be avoided by keeping in mind spoilage dates, based on calculations made by food scientists.