What Are the Different Types of Emergency Nursing Certification?
There are four main types of emergency nursing certification: for nurses in regular hospital emergency rooms; for nurses that deal primarily with children; for nurses who are part of flight paramedic teams; and for nurses who are part of ground-based ambulance transportation. All four certifications are usually optional. Much depends on local laws and the specifics of a given job, but in most cases, certification is a voluntary way for nurses to distinguish their skills and set themselves apart. It is not usually a replacement for education or field experience.
In order to become an emergency nurse, a person must usually complete nursing school and participate in hands-on emergency training. This often involves both simulated labs and supervised real-world experience in emergency rooms and trauma situations. In many places this training is capped with board exams, which qualify nurses to begin working. Certification is usually something that happens after a nurse has been in practice for awhile. It is not as much a basic qualification as it is an indication of excellence and advanced training.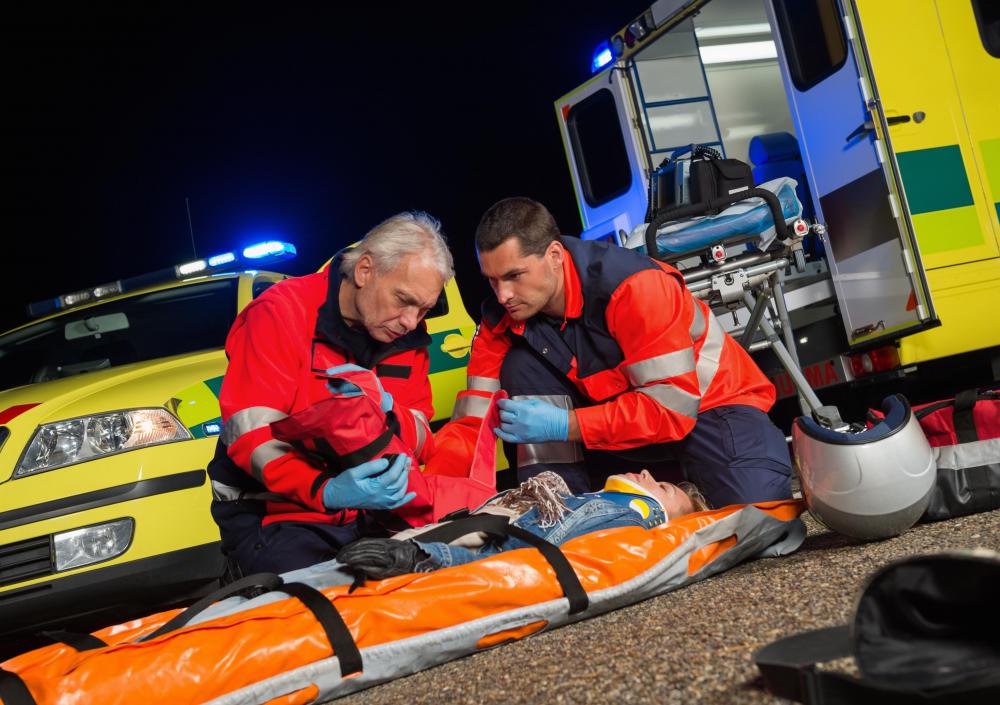 The four types of emergency nursing certification reflect the four main types of emergency nurse jobs. All nurses who work in crisis and trauma settings perform similar tasks, but must usually have slightly different skills depending on their setting and main patient base. Certification is usually a way for a nurse to augment work experience and basic board passage. It shows that the nurse has gone above and beyond the basic requirements for the job, and has actually sought outside training to become a recognized expert in the field.
General emergency nursing certification is the most basic kind, and is usually recommended for nurses who work in hospital emergency rooms. ER nurses must usually be ready to see almost anything. Certification in this area is usually comprehensive and prepares nurses to quickly assess and treat patients of all ages with any number of ailments.
Pediatric emergency nursing certification is similar, but is geared only for the treatment of children. Nurses who work in children's hospitals or in pediatric emergency wards are usually the best candidates for this sort of emergency nursing program. Certification programs for flight nurses and ambulance nurses are similarly specific, and usually cover logistics of safe transportation and the adjustments and calculations needed to account for moving vehicles and altitude, among other things.
Most of the time, certification programs are offered as independent emergency nursing classes. Sometimes they are taught through universities or nursing school programs, but many are independent. In most places, a private certification board oversees all emergency nursing certification courses and accredits them or ranks their value. Particularly where certification is not required, students would be wise to check up on the credentials of any emergency nursing course before enrolling.
Courses are usually offered on a flexible basis and are often designed to fit within a nurse's rotation schedule. It is common to find weekend and evening training sessions, and some emergency nursing classes have online components that can be completed at any time. The curriculum usually centers on simulations and advanced techniques. In most cases, a certification award is contingent on both successful completion of the coursework and passage either of a written test or a hands-on, lab-based practicum.
Nursing students often gain real-world experience in emergency rooms and trauma situations.

Pediatric emergency nursing certification focuses on the treatment of children.

Emergency certification is available for nurses who are part of flight paramedic teams.