What Are the Different Types of Design Career Opportunities?
Design career opportunities depend on a person's experience and the specifics of his or her education. A fashion designer and a graphic designer, for example, have very different types of jobs. Any product that is designed necessarily requires a designer, but many of these products involve cooperation between many different types of professionals. When looking for design career opportunities, it is important to make sure that a person possesses skills relevant to the position.
Many design career opportunities involve working in print or online with graphics. These positions typically require a background in art and may involve significant computer work. Career opportunities for this type of design can be found in publishing, web design, or even advertising. Designers of this type must be talented artists who are able to meet the needs of their clients.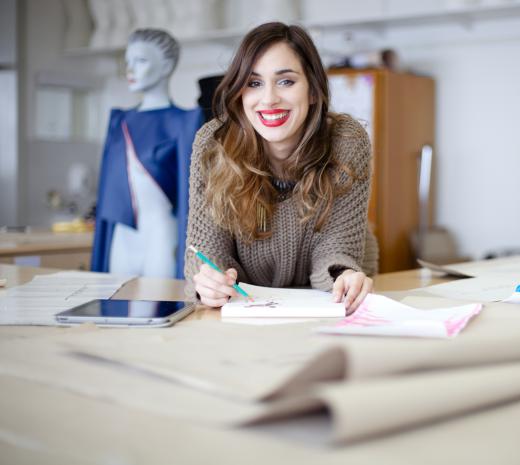 There are also design career opportunities related to technology, often involving a detailed understanding of how specific hardware works. Designers of this type must be able to incorporate the ways in which users interact with technology into a finished product. Although these career opportunities require a strong background in art, additional skills may be needed.
Fashion design career opportunities can take a number of different forms, including working independently in some cases. Some designers work on specific products, like shoes or luggage. Others work on a single aspect of fashion design, such as textiles or construction. It is possible, however, to start a career in fashion design working entirely independently and accomplishing all aspects of design on one's own.
Interior design careers often involve a combination of skills, including an understanding of architecture. This type of professional must often meet very specific client needs and consider the restrictions of the particular space. Within interior design, many people have specific specializations, such as working primarily with homes or businesses.
Museums and other public facilities sometimes employ designers to help improve the flow of knowledge through an exhibit. Zoos, for example, require designers to help structure informational placards as well as the actual exhibits. In some cases, working with this type of information requires special qualifications, but a graphic designer can usually handle most of an educational facility's needs.
For every design career, there must also be people who teach those designers how to perform their jobs. In many cases, teaching is treated as a secondary career to design, but some people work solely as teachers. Teaching may require additional degrees or qualifications, but in some cases experience is sufficient. A design career in teaching does not necessarily imply that a person no longer works as a designer, but may be a full-time commitment in itself.
AS FEATURED ON:
AS FEATURED ON:






By: berc

Some people break into fashion independently by launching their own companies.

By: corepics

Freelance web designers are free to work whatever hours they choose, making this a great choice for people in search of a way to balance work and family obligations.

By: victor zastol'skiy

An interior designer needs to have an excellent eye for aesthetics and keep up to date on cutting-edge room designs.