What are the Different Types of Credit Repair Services?
Bad credit can have a serious impact on a person's ability to get a job, apartment, or a loan. Many of those who have damaged credit seek out credit repair services to help them clean up their credit report so that they can regain their financial health and move on with their lives. There are several types of credit repair services, including debt negotiators, clinics that specialize in credit bureau disputes, and educational services that show consumers how to improve their credit score.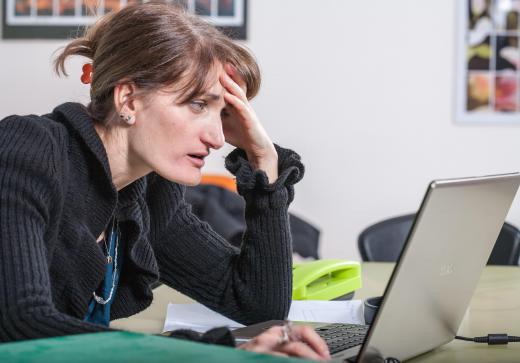 In many countries, credit bureaus are required by law to make sure that all entries on a consumer's credit report are accurate. Consumers have the right to dispute information on the report and request that the credit bureau investigate negative information. While consumers can make these requests on their own, some credit repair services automate the process by automatically sending out dispute letters on a regular basis.
The way the credit bureau disputes system usually works is that a consumer signs a contract with the credit repair clinic and provides it with his or her credit report. The credit repair service disputes the negative information on the report and tells the consumer to send any communications back to the credit clinic. If the credit bureau refuses to remove the information, the credit repair clinic responds by sending an additional dispute. The trouble with this method is that credit bureaus are under no obligation to remove accurate information, though this can be a good approach for those whose credit reports contain inaccuracies.
Other credit repair services specialize in debt negotiation. The company may offer to settle a debt for a lump sum in exchange for the creditor's willingness to remove the negative information on the client's credit report. Although this can be an effective method of cleaning up a credit report, it requires that the client have a great deal of cash on hand to settle the debts. Individuals with bad credit typically got into trouble because of a lack of cash, making negotiating a pay-for-deletion arrangement an unlikely prospect.
Fortunately for those with bad credit, there are plenty of free resources available online for those who wish to improve their credit score. Major credit bureaus and credit score companies often provide educational articles on their websites that show how credit ratings are determined. Government and consumer advocacy groups also sponsor websites that explain a consumer's rights to challenge information on his or her credit report and manage credit more wisely in the future. For those who use these informational resources, credit repair services may not be necessary.


By: alexskopje

Credit repair services may be able to help remove inaccurate information from a credit report.

By: roberto lunerti

Those with poor credit should first look at their score and understand that they can change it over time through appropriate credit repair efforts.