What Are the Different Types of Core Training Workouts?
The body's core essentially consists of the mid and lower back, abs, upper thighs and buttocks. Since this area supports the spine, it's important to keep it in good shape. In order accomplish this, it's helpful to participate in some basic core training workouts on a consistent basis. Some workouts that have proven effective include crunches, single leg lowering and plate raises. Performing one or a variety of these core training workouts routinely should keep one's core in peak condition.
One of the more traditional, yet effective workouts is simply doing crunches. These are done by first laying down with the back on the floor, knees bent and feet flat on the ground. Then the hands should be placed behind the head with fingers interlocking. If possible, it's best to lay on an exercise mat to protect the lower back.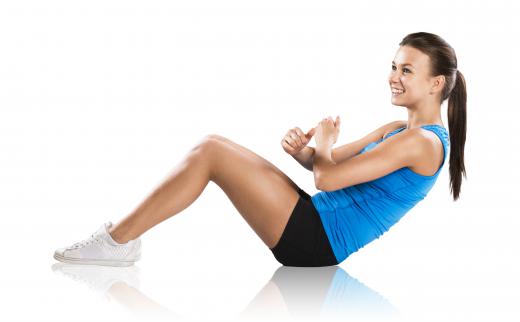 At this point, the abdominal muscles should be contracted, and the head lifted completely off the floor with the help of the arms and back. Then, the head should be lowered back to the ground and the process repeated 20 to 30 times. If the person wants a more intense workout, then using an exercise ball will provide more challenge for the abdominal muscles.
The single leg lowering exercise is another of the core training workouts that works on the abs and and upper thighs. These are performed by first lying down with the back on the ground. Then, both legs should be lifted off the ground until they are approximately at a 90 degree angle from the ground.
Now, gradually lower the right leg toward the ground until it almost touches the ground, but not quite. Then gradually move the right leg back off the ground until its back at a 90 degree angle with the left leg. This same process should then be done with the left leg the next time. Both legs should continually be raised and lowered until the individual has performed 20 to 30 repetitions on each leg.
Plate raises are another of the core training workouts that target the abs and lower back. To perform this exercise, an individual will first need a plate weight somewhere around 20 to 30 pounds (9.07 to 13.6 kg). To begin, the plate weight should be held between both hands in front of the waist.
Then the plate weight should be lifted upward until it's in front of the chest, and lowered back down to the waist. This process should be continued for 10 repetitions. Then the person should rest for approximately one minute before completing another 10 repetitions.
AS FEATURED ON:
AS FEATURED ON:






By: Halfpoint

Core exercises focus on muscular endurance rather than power.

By: Maridav

Standup paddleboards may improve balance and strengthen the core muscles.

By: Gabriel Blaj

Core training workouts, like leg lifts, work on the abs and upper thighs.