What Are the Different Types of Computer Qualifications?
There are a number of different computer qualifications that should be considered by those interested in working in a field in computer science, though they typically break down into either educational or professional experience. A general educational background in studying computers, such as a degree in computer science, can be quite helpful for someone looking to work in the computer industry. More specific forms of computer qualifications include various certifications that can be earned from private organizations and software developers. There are also various types of professional experience that potential employers might look for, though related work with computers is usually preferred.
Computer qualifications typically can be classified in one of two major areas: a job candidate's educational background and his or her professional experience. One way in which someone can receive the education typically necessary to work in the computer industry is through a degree in a basic aspect of computers. A degree in computer science is often used as a qualification for work in this field, with an associate's or bachelor's degree being acceptable for many positions.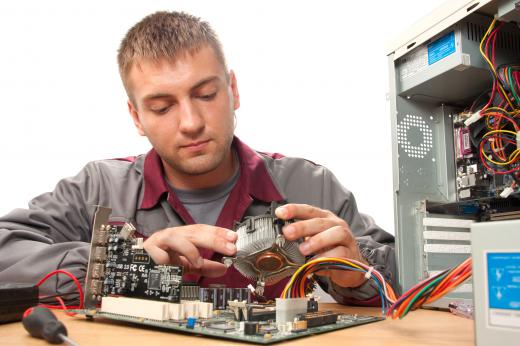 Higher-level degrees are often needed for positions in research or teaching. Executive officers at corporations who specialize in information and other digital assets may also need advanced degrees with a focus on computers and a secondary specialization in business. Within these general degrees, there are also more specific focal points that can be used as computer qualifications, such as a focus on Information Technology (IT) or Information Security (IS).
Potential employees can also use more specific types of education as computer qualifications. Certification in a particular aspect of computer science or development is typically seen as an excellent qualification for candidates looking to work in the computer industry. A programmer wishing to work in software development, for example, might receive certification from a developer of an operating system to demonstrate his or her knowledge in programming for it. There are similar computer qualifications in various industries, such as certifications in penetration testing or network security for IT security professionals.
Previous employment and professional experience are also vital computer qualifications for many potential candidates looking for employment in the computer industry. This makes entry-level positions at many companies, even smaller ones, quite attractive as they may be positions in which someone can receive the experience he or she needs to move up within the industry. Internships and apprenticeships can also be offered by major software developers, allowing students to gain experience while they are completing their educations. Such opportunities are often hotly contested, since these computer qualifications can make a tremendous difference in potential for finding work immediately out of college or a similar program.
AS FEATURED ON:
AS FEATURED ON:






By: Nomad_Soul

Computer repair technicians usually gain hands on experience outside of the classroom.

By: mickyso

A degree in computer science may be required to work successfully in the computer industry.

By: diego cervo

Many information technology (IT) professionals hold a four-year degree in computer science or information management.