What are the Different Types of Commercial Fitness Equipment?
Commercial fitness equipment can be very simple, as with barbells and utility benches, or very complex, as with top-of-the-line exercise bicycles and rowing machines. It is quite common for there to be standard versions of fitness equipment that can be used for private home use and commercial versions that are used in professional settings. The equipment used in professional settings such, as in gyms, is often outfitted with more features, such as wireless heart rate receivers. Less high-tech commercial fitness equipment that is used in professional settings is sometimes constructed in a manner that is a bit more solid and more prepared for heavy use than models that are intended for use in the home.
Some of the most basic, low-tech pieces of commercial fitness equipment include free weights, exercise balls, yoga mats, and resistance straps. Commercial fitness equipment used in water aerobics is also very low tech. This sort of equipment includes water aerobics belts and water aerobics barbells. The next step up in terms of design are weight-lifting machines. These machines are usually intended to target just a few muscles, or groups of muscles, such as the pectorals, the biceps, or the muscles in the thighs.
There are some pieces of commercial fitness equipment that use resistance to target many of the muscles in the body. There are some models, like another type of weight-lifting machine, that are free standing. There are others, such as rowing machines, that use one specific kind of motion for a full body workout. Rowing machines may be free standing and may have an electronic component that allows for functions such as heart rate monitoring. These applications can also sometimes measure how much distance the rower would have covered if he had actually been in a boat, as well as how many calories he has burned while rowing.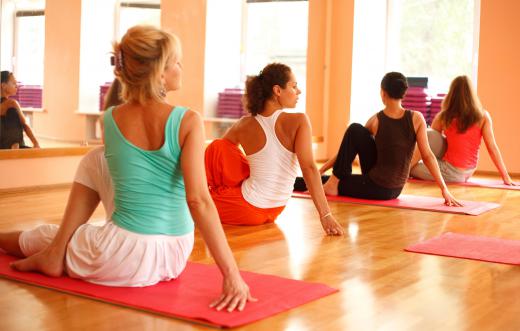 These sorts of applications are very common in tread mills and elliptical machines, which are very common pieces of commercial fitness equipment. Unlike the low-tech barbells and hand weights, these pieces of commercial fitness equipment regularly have interfaces that allow users to enter biometric information, track their fitness progress, and follow workout plans that have been pre-loaded into the system. It is also possible for users of this kind of commercial fitness equipment to develop their own exercise courses or routines, which can be entered manually into the system.
AS FEATURED ON:
AS FEATURED ON:






By: Rido

Some people use free weights.

By: furmananna

Yoga mats are a type of commercial fitness equipment.

By: american911

Flotation belts are often used in water aerobics classes.

By: Igor Mojzes

Exercise bikes and rowing machines are two common types of commercial fitness equipment.

By: MaxRiesgo

Treadmills at a gym are commercial fitness equipment.