What Are the Different Types of Christmas Muffins?
There is rarely any shortage of food at Christmas, and baked goods are no exception. From traditional mince pies to dense, fruity Christmas puddings, all the traditional flavors of the season can be baked into Christmas muffins. Eaten at parties, for breakfast on Christmas morning, or given as handmade gifts, muffins are a popular alternative to heavier treats. Although many different recipes are available, there are three main types, including fruit-based, spice-based, and sweet.
Even though three basic types can be identified, there is much blurring of the line between them, with crossovers between many of the ingredients. The basic foundation remains the same, however, for all the types of muffins and include flour, eggs, and milk. Cooks make Christmas muffins as normally sized or as tiny, single bites to serve as finger food at festive parties.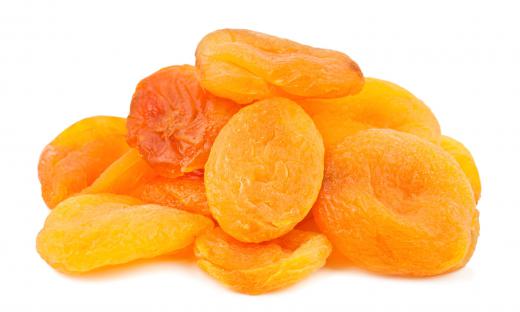 Fruit-based Christmas muffins feature seasonal fruits as their main ingredient. These fruits can be either dried or fresh and can include apples, cranberries, and oranges. Other fruits such as apricots and raisins are also popular, although perhaps less festive. Fruit muffins are often combined with nuts, including holiday favorites such as chestnuts, walnuts, and even pecans.
Chocolate can also be included, with dark and white varieties going best with Christmas fruit. Cooks often add cinnamon to complement the fruit flavors. A mince pie muffin is a fruity twist on a holiday favorite. The traditional mince pie filling, consisting of dried fruit, spirits, and suet, is added to regular muffin batter and spiced accordingly.
Spice muffins are somewhat more savory. The main spice combination for this type of Christmas muffin, besides the liberal use of cinnamon, is cloves, nutmeg, and ginger. In fact, the muffins taste very much like traditional gingerbread men and can provide a quick alternative. Spice muffins are especially good for adults as they also often contain a splash of rum or brandy. Cooks may also use molasses and coffee as flavorings for this more sophisticated taste, and some fruit, such as apples or cranberries, complement the spicy flavor.
Sweet Christmas muffins usually begin with a vanilla base to which any variety of sweet items can be added. One popular holiday recipe is to use peppermint extract flavoring, inspired by the candy cane. These muffins can also be sweetened with chocolate — milk, white, or dark — all complementing the minty flavor.
No matter what type of Christmas muffins are made, the topping can make it especially festive. Toppings can range from a simple dusting of snow-like icing sugar to rich, creamy icing decorated with sugar or cookie figurines. Streusel, sprinkles, sparkles, and balls can make Christmas muffins look as festive as the tree.
AS FEATURED ON:
AS FEATURED ON:






By: Volodymyr Shevchuk

Dried apricots are used to make fruit flavored Christmas muffins.

By: VIPDesign

Peppermint flavoring is a common ingredient for Christmas muffins.

By: Gresei

Spice muffins often contain a splash of brandy.