What Are the Different Types of Business Management Career Opportunities?
Business management career opportunities are varied because the need for business management exists in many industries. Specific education and training requirements for these positions will also differ according to the industry and type of position, but in many cases, an undergraduate degree in business can be helpful. Employment opportunities may start with job placement into entry level positions for inexperienced managers. As managers gain experience, they may be eligible for career advancement to increasingly responsible positions.
Career options for people who enjoy working with the public include retail store and hospitality industry management. Retail stores may hire and train store managers who have little experience. Those who are looking for a hotel or restaurant management career may benefit from education and experience in those industries.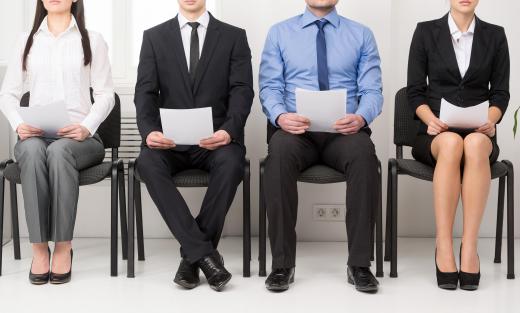 Administrative services management refers to managers who oversee various functions that are necessary to run an organization, but that are not its primary purpose. An example of administrative services management may include facilities management, such as ensuring an organization's buildings are maintained. Other functions that may fall under administrative services management include telecommunications, information processing, and mail distribution.
Production managers may work for manufacturing companies. They are frequently responsible for the employees and equipment involved in making the goods the company will sell. Other business management career opportunities at manufacturing companies may include purchasing or inventory control. Business managers in these positions may be responsible for ensuring an organization has the appropriate level of materials needed for manufacturing and machine maintenance.
The project management field offers business management career opportunities. A project manager usually plans, organized, manages and controls people and other resources to complete projects such as software applications and building construction. These individuals usually specialize in particular types of projects. Job security can depend on the abilities of the project manager, and the number of projects the organization is undertaking.
Another of the many business management career opportunities available is that of a sales manager, who may supervise a team of sales people, and may also be responsible for business development. At some organizations, sales managers manage relationships with customers in a particular territory. Marketing managers often work closely with the sales department to provide materials and plan events that help the sales department do its job. These managers may also solicit feedback from customers on their product or service experience, and may make suggestions for new or improved products or services.
Human resources managers may assist with hiring, training, and firing employees. Frequently, they help define employee related policies and procedures and may oversee employee benefits, such as health and dental coverage, and education reimbursements. Healthcare is another field that uses business managers. For healthcare business management, an undergraduate degree in healthcare and a Masters' level business degree in healthcare management may open career options. Business management career opportunities exist in both large and small healthcare facilities.
AS FEATURED ON:
AS FEATURED ON:






By: BlueSkyImages

Human resources managers may assist with hiring employees.