What Are the Different Types of Appetizer Dips?
Appetizer dips are a great way to provide diners with a fun combination of flavors. There are hundreds of recipes for dips, many of which are endlessly customizable to personal taste. Some of the most common types of appetizer dips include cold, hot, layered, and sweet dips. Combining several different appetizer dips with a large selection of vegetables, breads, and fruits can help create a perfect hors d'oeuvres spread.
Cold dips are often popular because they are general simple and take little time. While these dips can be fancy enough for an elegant soiree, they can also be dressed down for a tailgating party or casual dinner. Casual cold appetizer dips include salsa, a Mexican dip made from chopped tomatoes, onions, and spices which is a fantastic dip for tortilla chips. Ranch and onion dip, made from a creamy base and flavored with herbs, are also excellent for casual snacking with potato chips or vegetable crudites.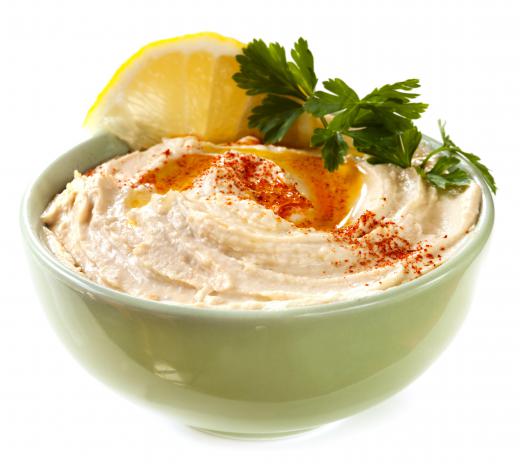 More elegant cold dips take inspiration from many different culinary traditions, and can be beautifully arranged with lovely serving dishes and upmarket dipping selections. Hummus, a Mediterranean dip concocted from pureed garbanzo beans, lemon juice, and sesame seed paste, is a hearty appetizer dip that goes well with pita bread and vegetables. Lobster dip is a gourmet treat made from lobster meat, cream cheese, and onions, often served on water crackers. An Asian-inspired sweet and sour dip is a perfect choice for a buffet spread of wontons, spring rolls, and other Asian delicacies. Raita, a cooling yogurt dip from India, is an excellent complement to a rich appetizer spread, as the tangy yogurt adds a bite of clean acidity to the palate.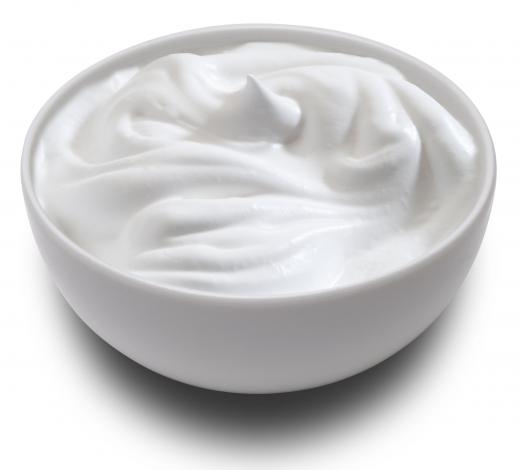 Hot appetizer dips take a little more preparation, but can be well worth the effort. One enduringly popular type of hot dip is cheese fondue, a melted concoction of cheeses and spices that goes well with cooked meat, bread, vegetables, and tart apples. Spinach and artichoke dip, which combines the two primary ingredients with cheese and garlic, is a delicious hot appetizer dip that can provide a good way to get kids eating spinach with enthusiasm.
Layered dips have the benefit of looking much more complex than their prep time indicates. One of the most popular and delicious types of layered dip is taco or seven-layer dip, in which beans, cheese, salsa, guacamole, sour cream, and other taco ingredients are added to a baking dish in distinct layers, then baked until the cheese melts. To highlight the delineated layers, it helps to serve taco dip or other layered appetizer dips in a clear glass serving dish or bowl.
Sweet appetizer dips can add a little dessert to the appetizer tray, often without the heavy calorie count of other desserts. Chocolate fondue is a perennial favorite, especially when served with fresh fruit, cookies, and marshmallows for dipping. A great option for a Halloween party is a caramel dip surrounded by apples and clean Popsicle sticks, so that guests may experience the fun of dipping their own caramel apple.
AS FEATURED ON:
AS FEATURED ON:






Hummus can be a great appetizer dip.

A bowl of sour cream, which can be used to make seven layer dip.

By: Natalia Mylova

Tapenade, an olive spread or dip, served with a slice of bread.

By: Stuart Monk

Guacamole is a type of appetizer dip.

By: Michael Gray

Sweet and sour sauce might accompany spring rolls.

By: Glamshot

Chocolate fondue served with fresh fruit is a popular appetizer dip.

By: Betty Abrantes

Caviar appetizer with fromage blanc and fresh herbs.

By: vetasster

Hummus dip goes well with pita bread.

By: nataliazakharova

Appetizer dips may be served along with potato chips.

By: vpardi

Elegant lobster dip is best when made with freshly steamed lobster meat.

By: JJAVA

Robust salsa is a perfect accompaniment to creamy guacamole.

By: gloszilla

Fresh spring rolls are usually served with a tangy sauce made with peanuts, sweet chilies, and fish sauce.

By: .shock

When stocking a buffet for a cocktail or dinner party, be sure to include at least one appetizer dip that is vegetarian.