What are the Different Types of Acne Scar Treatments?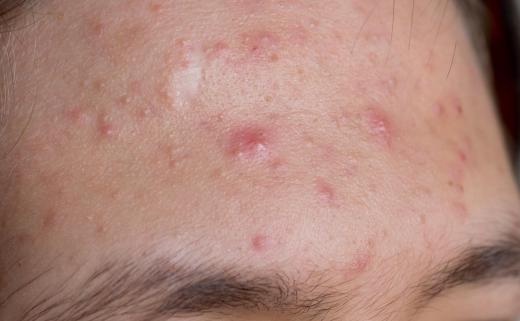 There are a few different acne scar treatments to choose from, but most people resort to over-the-counter products first. For more severe cases, treatments such as demabrasion, chemical peels, and laser resurfacing can be used. In extreme cases, collagen injections or autologous fat transfers can help diminish the appearance of acne scars. Acne scar treatments will not entirely remove the scarring, but can improve the skin's texture.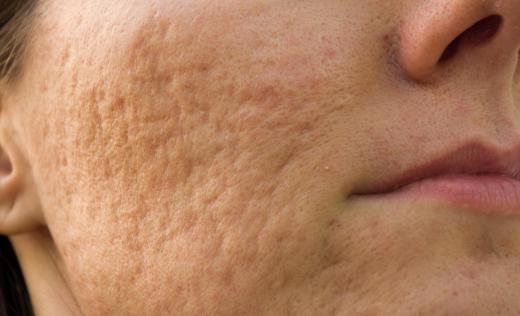 Two of the most well known ingredients in over-the-counter acne scar products are mandelic acid, which is a mild alpha hydroxy acid (AHA), and salicylic acid. Both function in much the same way, and help to exfoliate the skin. Salicylic acid penetrates more deeply into the skin and can have a greater exfoliating effect. These products can usually be purchased without a prescription and can be applied at home, but they are only effective in mild cases.
Dermabrasion may be recommended for more serious scarring. The skin is abraded using a specially designed machine, and the process can cause some discomfort. New cell growth is encouraged, and this means that appearance of scars can be diminished.
Chemical peels have much the same effect as dermabrasion, but chemicals are used on the skin to encourage peeling. This is one of the acne scar treatments that could cause a fair amount of discomfort, as the skin will be red and sensitive for some time after the procedure. The recovery time is longer than when using other methods, but the result is often smoother, tighter skin.
Laser resurfacing is another of the acne scar treatments that work by resurfacing the skin. A laser is used to remove the outer layers of the skin in the areas where scarring is present. This method enables the growth of new skin cells, and results in a smoother complexion.
Acne scar treatments can also include injections, such as collagen injections. These injections can help plump up the skin, so that the scars are not as noticeable. This method does not remove the scarring but can be used to "fill up" scars, especially if crater-like scarring is present.
Autologous fat transfers are considered one of the more drastic acne scar treatments. This treatment is performed by injecting the patient's own body fat into the scarring. It works in much the same way as collagen injections, but it has the advantage of using a natural "filler." The effects are not permanent since the body reabsorbs the fat, but using this method could cut down on possible side effects or allergic reactions.
Usually, no active acne is present when acne scar treatments are performed. The patient may be required to follow a special skincare regimen for up to three months prior to the treatment, if active acne is still present.


By: olavs

A close up of acne.

By: Budimir Jevtic

Acne can leave behind scars and marks.