What are the Different Strategies for Preventing Bullying in the Classroom?
There are a number of possible strategies that can help curb bullying in the classroom. To begin with, school officials and parents need to be made aware of the problem and educated about how to deal with it. Reducing class sizes can allow teachers to exercise more authority in their classrooms. Allowing students to anonymously report bullies can also be helpful because it will eliminate the fear of reprisals. When other means to correct the problem fail, alternative schooling programs can be considered.
Before bullying in the classroom can be adequately dealt with, it must be recognized as a problem. For many adults, bullying is a normal part of childhood development and the school environment. This may be due in part to the lack of awareness regarding the severity of this problem. Considering this, it is often argued that one of the most important strategies for correcting this issue is to thoroughly educate parents and school staff about bullying so that they can identify it and possess the knowledge to deal with it.
Many people believe that reducing class sizes will help to eliminate bullying in the classroom. It is believed that the tendency of many schools to assign large numbers of children to a single classroom under the authority of a single teacher facilitates the problem. Due to the fact that the teacher is overburdened, it is difficult for her to monitor or control social interaction between the students. It is therefore argued that if teachers were responsible for fewer students they would be able to exercise a higher degree of authority.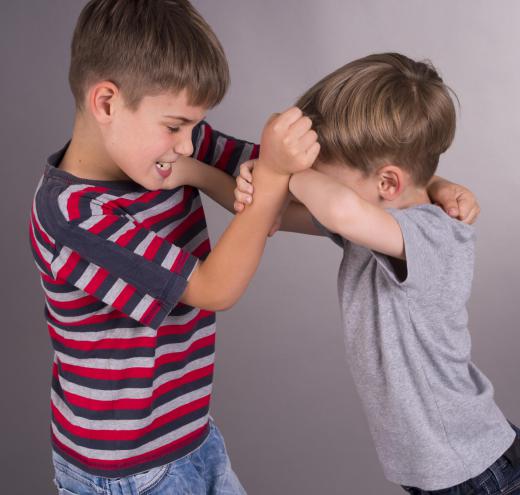 Surveys have shown that many children keep secrets about being victims of bullies. One reason that has been given for this is that children worry that their problems will get worse if they are identified as snitches. This has also been reported as a discouraging factor for children who witness the problems but who are not bullied. It is believed by some that bullying in the classroom can be dealt with if there are anonymous reporting systems implemented.
Although in many places it is undoubtedly controversial, one way to handle bullying in the classroom is to remove the bullies. Children who are identified as trouble makers and who have not responded to other attempts to correct their behavior could be entered into an alternative schooling program. There are several ways that this arrangement could be executed. Children identified as bullies could be sent to special facilities, areas within existing schools could be devoted to this cause, or these children could be forced into a home-schooling program.


By: Woodapple

Reducing class sizes may help prevent bullying in the classroom.

By: Christian Schwier

Removing bullies from a classroom may promote a healthier learning environment for children.

By: stefanolunardi

A number of organizations provide bullying lesson plans for use in the classroom.

By: Vesna Cvorovic

Conflict resolution activities can help children look for non-violent ways to solve issues.