What are the Different Sales Executive Jobs?
To maximize customer outreach and increase profits, many companies turn to their sales executives. These jobs are likely to be found throughout the world and in diverse industries. A car sales executive may promote eCommerce functions and also assist buyers, while a media executive may focus his or her attention on social networking. Field sales executives may target specific customer channels, and international executives may perform outreach to global clients. IT sales executives may specialize in software platforms, and senior executives may oversee entire marketing departments to ensure sales goals are met.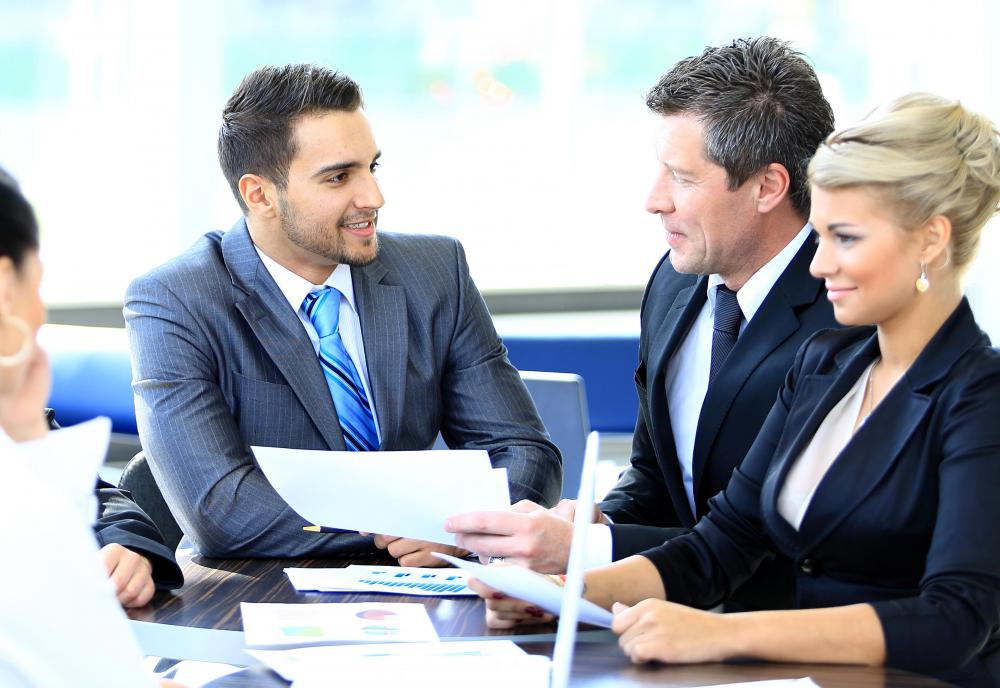 Sales executive are likely to drive company profits in many worldwide industries. Although the job may pertain to individual products or segmented markets, many executives perform similar duties. A sample job description may explain these roles as responsible for the development and performance of all sales activities in an assigned channel. Additional duties may be to direct a team of sales staff members, strategize to effectively expand the company's customer base and contribute to the development of product education for clients.
Car sales executive jobs may be available with both traditional dealers and those that institute eCommerce practices. While brick-and-mortar offices may exist to support the latter positions, much of the work is likely to involve Internet practices. For example, online marketing of vehicles and electronic communication with interested buyers may be standard duties. Those tasks likely to be similar to traditional dealers may include selling appropriate finance and insurance products to customers, assisting buyers with the purchasing process and scheduling client appointments.
Media sales is another area in which online opportunities may be prevalent. This is largely because many businesses now maintain websites, blogs and social networking accounts to attract customers. Media sales executive jobs may thus involve correspondence with industry representatives, distribution of news releases and informational pieces on appropriate websites and internal/external management of social media pages. These positions may further entertain industry professionals, compose and edit marketing information and promote the company's services or amenities.
Many companies manufacture products or offer services that appeal to a large user market. To target specific demographics and keep sales from growing stagnant, field sales executive jobs often focus on specific accounts. An arts supply manufacturer, for example, may design products well-suited to teachers in K-12 classrooms. The sales executive in this instance may develop relationships with educators and demonstrate classroom applications for the products.
Companies with diverse interests may conduct business on an international level. To illustrate, a hospitality company for major sporting events may offer travel packages that include event suites, flight and hotel accommodations and discount dining services. Such events as the World Cup, Super Bowl and Wimbledon are likely to draw fans from many different areas. International sales executive jobs may thus sell the travel packages to potential clients, prepare global marketing materials and finalize invoices for services.
Healthcare is a field for which many targeted business solutions are designed. Software platforms are often intended for physician or hospital use to organize data and mainstream back office procedures. IT sales executive jobs may promote such software and identify new customers, while cultivating existing client relationships and maintaining all client profiles. The executive often needs to develop and execute sales presentations, manage prospects and provide timely sales forecasts and reports.
Senior sales executive jobs are likely to develop and implement short- and long-term strategies related to sales leads, product direction and market opportunities. This may mean completing scope studies and also attending project planning workshops. The senior executive may further manage internal resources that pertain to the product, including marketing, client services and product development. In many cases, the senior executive mentors junior staff members to achieve department sales goals.
Employers often look for sales executives with four-year degrees in business. Specific product knowledge, such as software applications or pharmaceuticals, may also be desirable. Sales experience is preferred for many positions, although some employers may be willing to train candidates who reflect their corporate philosophies or core values.