What Are the Different Pharmacist Course Requirements?
There are various types of pharmacist course requirements a person might face, including prerequisites required for enrolling. People must also make a commitment of time to study in this field, and bachelor's degree programs often last for four years while Doctor of Pharmacy (PharmD) programs can last for four to six years, depending on whether or not a person has completed educational prerequisites. Once enrolled in either a bachelor's or a doctoral program, a person has to successfully complete a range of required courses to graduate.
Often, PharmD programs require students to complete a range of college courses before enrolling. For example, some require potential students to earn a bachelor's degree and take chemistry and organic chemistry, anatomy, biology, and microbiology before enrolling in a doctoral-level program. Some programs may also require a person to take an advanced math, such as calculus, and economics as a condition of acceptance.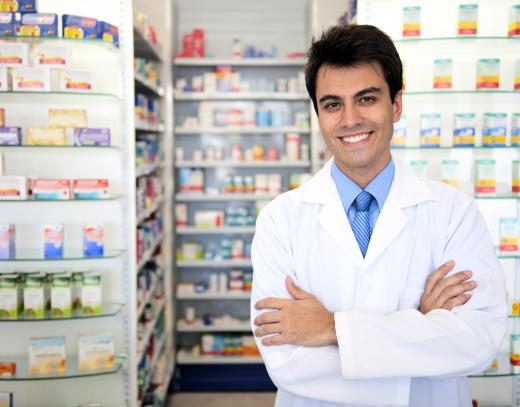 Humanities courses are often required as well. For example, a PharmD program may require a person to have at least a few composition-related credits and take a public-speaking course before enrollment. Sometimes pharmacist course requirements include completion of psychology classes and history credits as well. Additionally, some programs include at least one ethics course among their prerequisites. If a person will pursue a bachelor's degree, however, instead of a doctoral degree, science, math, and humanities classes are often incorporated into the degree program instead of required as prerequisites.
A PharmD program often includes a range of advanced pharmacy classes, including those designed to prepare a person for communicating with patients, prescribing drugs, and providing information about various types of medication. Doctoral-level pharmacist course requirements may also include classes that cover legal concerns and ethics as they pertain to a pharmaceutical career. Biochemistry courses and those that focus on understanding and analyzing the healthcare system may be included as well. Additionally, these programs typically require a clinical component that allows students to gain hands-on experience under the direction of instructors and licensed pharmacists.
AS FEATURED ON:
AS FEATURED ON:






By: mangostock

A pharmacist.