What are the Different Options for do-It-Yourself Home Remodeling?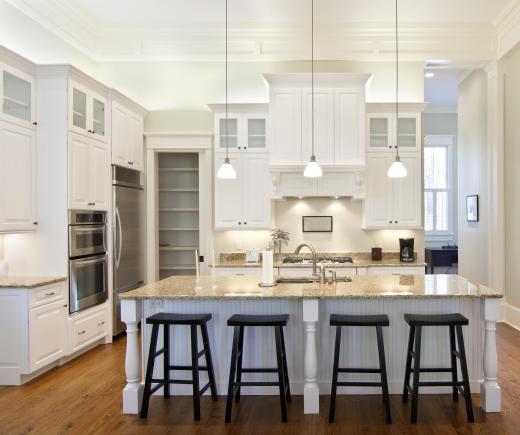 There are many ways a person can improve his or her house through do-it-yourself home remodeling. Using basic homemaking skills and a few professional tips, many home alterations can be done without the expense and inconvenience of using professional builders. It is important to remember, however, that some jobs are too difficult and dangerous for do-it-yourself home remodeling. Altering the structure of a house, replacing the roof, or building additions should probably be left to professional contractors, due to the complexity of housing standards and the danger of a structural mistake.
Do-it-yourself home remodeling is often done by following tips or instructions provided by professional sources. There are many books, TV shows, and Internet websites that provide ideas and step-by-step instructions for many do-it-yourself home remodeling projects. Hardware and home supply stores often hold free classes or seminars on a particular remodeling subject, such as advanced painting techniques or tiling basics. Using these sources can help generate ideas and return better results for do-it-yourself home remodeling projects.
It is very important to have an idea of the scope and workload of a project before beginning. Some do-it-yourself home remodeling projects, such as painting a bathroom, can take a few hours, but others may take weeks or even months. Creating a plan and schedule for a long project can help ensure that it is done in an orderly and timely fashion. Starting a project without knowing how long it takes can lead to months of stepping around paint cans or missing floor tiles.
There are many different types of do-it-yourself home remodeling projects that even a novice handyman can attempt. Freshen up a kitchen with a new paint color, refinished or stained cabinets, and decorative cabinet hardware. Create a spa oasis out of an ordinary bathroom by adding wall sconces for candles, installing cabinets for easy storage, and adding a towel rack filled with plush towels.
Children's rooms are a great opportunity for do-it-yourself home remodeling. It is important to remember that kids will often go in and out of style phases; the little girl that wants moons and stars today may want ponies or rock bands in a few years. Try to keep remodeling projects easy to remove or replace. Paint murals or use wall decals to create anything from a fairy paradise to a western frontier. Use replaceable materials, such as bedding or lamps, to set a theme, rather than relying on big objects such as beds or furniture.
Do-it-yourself home remodeling can also extend to the outside of the property to help create more organized and useful yards. Section off a part of the backyard for a dog run to help keep Fido contained, or build your own pond, patio, or flower-trailing pergola. Building a lovely yard can make a homeowner not only more likely to use it, but also more likely to try and keep it maintained and beautiful.


By: Wollwerth Imagery

Painting cabinets is an inexpensive way to remodel a kitchen.

By: Wollwerth Imagery

A new coat of paint is an easy DIY way to brighten up a room.

By: Ilia Shcherbakov

It's important to wear safety equipment when performing a do-it-yourself remodel.

By: pincasso

A pergola is an easy and attractive DIY project for the backyard.

By: Theresa Martinez

Some people paint the exterior of their house.